Arts Council CEO Dave Lawrence '90 Offers Funding Idea for Indy Organizations
December 13, 2012
"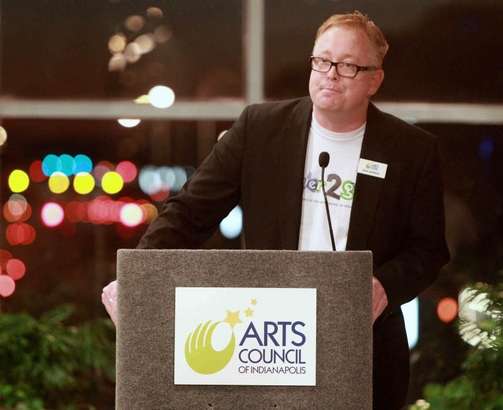 Funding was top of mind Monday night when local arts luminaries gathered at UIndy to discuss the state of local arts at 'Why Arts? Why Indy?," notes today's Indianapolis Star. "Little did the audience know that Dave Lawrence, president and CEO of the Arts Council of Indianapolis, was in the audience armed with a possible solution." (photo: Michelle Pemberton/Star)
Neal Taflinger reports, "On Wednesday night, the Arts Council announced a partnership with power2give, a crowd-funding site devoted to improving the fortunes of not-for-profit arts organizations. Indianapolis is the 12th market to use power2give and more than 60 organizations from throughout the eight-county area are promoting projects at Indyarts.org/power2give. Each proposal has 90 days to raise up to $10,000. 'This is not going to solve all funding-related problems,' said Lawrence, but is an attempt to connect with so-called Millenials, young people who prefer to give in

small amounts online or via text."
You'll find the full story at IndyStar.com.
Dave Lawrence is a 1990 graduate of DePauw University, where he majored in communication. Learn more about him in this previous summary.
Back