AP Listing of 2012's Notable Sports Passings Includes Tom Mont
December 28, 2012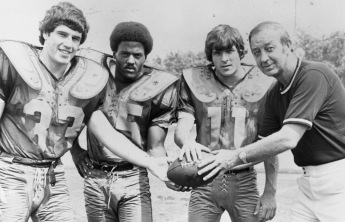 A nationally distributed Associated Press listing of notable figures in the world of sports who passed away in 2012 includes Tom Mont. The piece notes that Mont, the former head football coach at DePauw University (who also served as athletic director), died January 1 at age 89.
See the story at the website of the Des Moines Register.
Tommy Mont led DePauw's football program from 1959 through 1976 and was athletic director from 1972 until his retirement in 1987.
A college standout at the University of Maryland, he went on to play professionally for the NFL's Washington Redskins and was head football coach at Maryland from 1956 to 1958.
Learn more about the legendary coach in this summary.
In 1959, shortly after taking the DePauw job, Coach Mont was interviewed by U.S. Congressman Joseph Barr '39. The film is embedded below.
Tom Mont is fondly remembered for his concern for student-athletes and sense of humor as well as for his coaching abilities. He's seen in many "Monon Memories", including the 1971 clip:
Also available is Mont's speech from the 1993 Monon Bell banquet, which took place in Indianapolis the night before the 100th game in the historic football rivalry.
Back