Exhibition of Ceramics by Prof. Richard Peeler '49 and Nine Former Students Opens February 12
January 16, 2013

As part of the celebration of DePauw University's 175th anniversary, an exhibition will honor a former DePauw faculty member who is one of Indiana's best-known ceramicists. "Looking Back / Looking Forward: Richard Peeler and His Students," will survey the life and legacy of Peeler, a 1949 graduate of DePauw who taught ceramics, sculpture and photography at his alma mater from 1958 to 1972. The exhibition opens February 12 and continues through June 10 at the art center at DePauw that bears Richard Peeler's name. (at right: Architectural Fantasy, late 20th century, Richard Peeler, stoneware)
Featuring over 50 ceramic works by Professor Peeler and his wife, Marj, this is the first retrospective exhibition to examine the Peeler pottery legacy and incorporate a contemporary body of work by nine of his former students. The invited artists include: Sara Behling '74 (Colorado), Richard Burkett (California), Bing Davis '59 (Ohio), Susan Galloway-Blue '73 (Illinois), Nancy Lovett '74 (Indiana), Ginny Marsh '67 (Texas), Christine Rales '74 (Washington, D.C.),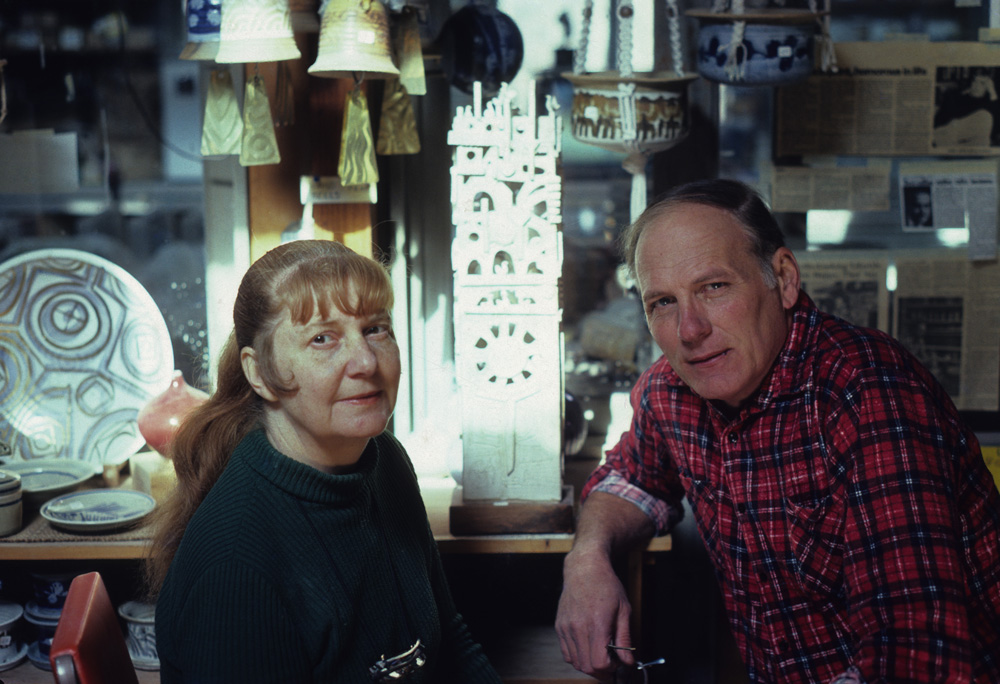 Chuck Wagoner (Indiana), and Georgette Zirbes '62 (Michigan).
The exhibition will highlight a range of familiar functional works by the Peelers, as well as several one-of-a-kind pieces owned largely by local and private collectors. Film, ephemera, photography, and narrative will supplement the ceramics on exhibition. Peeler Pottery: A Retrospective, a 342-page book published by the Putnam County Museum in 2009, will be available for purchase during the duration of the show. All proceeds from book sales will support the Putnam County Museum.
A gallery reception is scheduled for Friday, February 22, from 7 to 9 p.m. in the University gallery (lower level) of the Peeler Center. A live demonstration on the potter's wheel by several of the professor's former students will take place at 8 p.m. in the ceramics studio.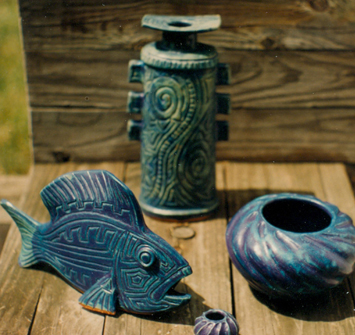 The galleries at the Richard E. Peeler Art Center are open Monday-through-Friday from 10 a.m. to 4 p.m.; Saturday 11 a.m. - 5 p.m.; and Sunday 1 – 5 p.m., and are closed during University breaks and holidays. Please visit our website for more information about special events associated with this exhibition. The galleries are free and open to the public. (at right: Peeler ceramics, mid-late 20th century, Richard and Marj Peeler, stoneware)
For more information, contact Craig Hadley, curator of exhibitions and University collections, at (765) 658-6556 or craighadley@depauw.edu.
In 2002, DePauw announced that it was naming its new art center for Dick Peeler. The Peelers were also honored by the University in 1986 when it hosted a retrospective exhibition of their work.
"Richard Peeler was a prominent member of a generation of ceramic artists who transformed the traditional craft of vessel making into an academic discipline
and an art form in the United States," noted David W. Herrold, professor of art, who coordinated the exhibition 27 years ago. "Richard's participation in the formation of the National Council on Education for the Ceramic Arts (the professional organization for ceramics) created the foundation of professional standards for the medium. His travels to Japan to make films about Japanese traditions helped introduce ideas about ceramic aesthetics and provided a point of departure for serious artists at a time when the United States had few traditions of its own. All of us in succeeding generations are indebted to Richard for the foundations he helped lay and it is very appropriate that he be remembered in this way." (above left: Vase, 2012, Ginny Marsh '67, stoneware; collection of the artist)
Back