Top-ranked DePauw Remains Unbeaten with Win at Oberlin
January 19, 2013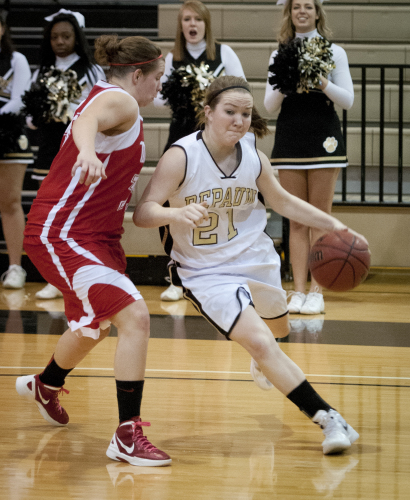 Oberlin, Ohio - Savannah Trees (pictured) scored 17 and Alex Gasaway posted a double-double of 14 points and 10 rebounds to lead number-one DePauw to a 67-49 North Coast Athletic Conference win at Oberlin.
The Tigers improved to 17-0 overall and 8-0 in the NCAC with their 42nd straight regular season win and their 42nd consecutive conference victory, while the Yeowomen dropped to 8-9 overall and 3-5 in the conference.
For the seventh straight game DePauw never trailed although Oberlin kept the margin in single digits early. The Tigers held a 13-11 lead after the Yeowomen's Katie Lucaites converted a three-point play with 12:51 left in the first half.
Alison Stephens pushed the margin back to four before Kate Walker hit back-to-back three-pointers and a layup. Ali Ross connected on one of two free throws with 6:24 remaining in the period to cap an 11-0 run and give DePauw a 24-11 advantage.
After the hosts scored the next three, the Tigers scored the 10 straight before entering the intermission with a 34-16 lead.
Oberlin was as close as 12 on a couple of occasions early in the second half, but DePauw's depth sealed the victory.
"We had a great effort on the offensive glass today, led by Stephens," DePauw head coach Kris Huffman said.
"Oberlin is a tough team to defend and we struggled to slow them down in the second half," she added.
Trees scored 15 of her game-high 17 in the second half, while Gasaway's 14 was DePauw's only other double-digit scoring performance. Gasaway and Alison Stephens each snagged a game-high 10 rebounds with Walker and Ross dishing our three assists apiece and Ellie Pearson totaling four steals.
Lillian Jahan paced the Yeowomen with 10 points with Ellen Neumann adding six rebounds.
The Tigers hit just 40 percent from the floor, but also 40 percent (8-20) from beyond the three-point arc. Oberlin was good on 40.4 percent of its field goal tries.
DePauw held a commanding 44-25 edge on the boards and grabbed 24 on the offensive glass. While Oberlin committed just four more turnovers (18-14), DePauw converted them into a 24-6 advantage.
The Tigers return home on Wednesday, January 23, when they host Wittenberg at 6 p.m.
For more information on the DePauw women's basketball program, follow DePauw on Twitter (@DePauwAthletics / @DePauw_WBB) or like them on Facebook (www.facebook.com/DePauwAthletics).
Back