Strong Defensive Effort Lifts DePauw to NCAC Win
January 19, 2013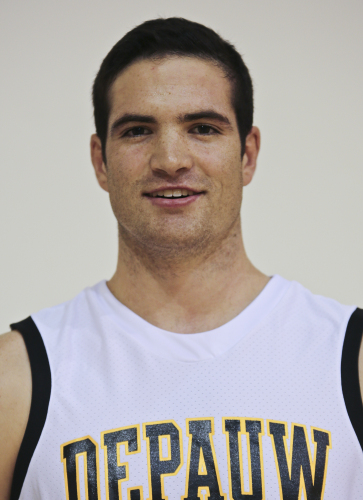 Oberlin, Ohio - Barry Flynn (pictured) scored a game-high 23 and Mark Johnson added a career-best 11 in leading DePauw to a 61-43 North Coast Athletic Conference victory at Oberlin.
The Tigers improved to 11-6 overall and 4-4 in the NCAC with their seventh win in the last nine outings, while the Yeomen dropped to 4-12 overall and 2-5 in the conference.
DePauw built an early six-point lead after Johnson converted a three-point play with 11:27 left in the first half. Oberlin, however, rattled off eight straight to take its first lead of the game at 18-16 with 7:35 remaining.
The lead was short-lived as the Tigers' Camron Burns scored on a layup on DePauw's next trip down the floor. Flynn added a pair of buckets to cap a 6-0 run and give the Tigers a 22-16 advantage. DePauw took a 29-23 lead to the intermission on the strength of 56.5 percent shooting from the floor.
Oberlin's Geoff Simpson opened the second half with a basket to trim the lead to four, but Tommy Fernitz answered with a layup which started a string of 10 straight DePauw points. Flynn, who scored 15 points in the first half, tallied four during the stretch while Fernitz and Wilkison had three apiece to give the Tigers a 39-25 lead.
The Yeomen got as close as 11, but the Tigers stretched the lead to as many as 21 points in he closing minutes.
"Oberlin is a difficult preparation as they run a Princeton-style offense that requires great defensive concentration," DePauw head coach Bill Fenlon said.
"I thought we did a good job with that and settled in offensively as the game went on," he added. "It was a good road win for us."
Flynn's 23 came on a 10-of-17 performance from the floor as he wrapped up a week in which he scored 46 points on 19-of-28 shooting. Johnson hit 4-of-5 field goals and was perfect in three free throw attempts as the Tigers knocked down 12 of 14 from the charity stripe.
Fernitz and Connor Rich each grabbed six rebounds as DePauw held a 29-19 edge on the glass. Rich also totaled a team-high four steals.
Andrew Fox paced Oberlin with 11 points, five rebounds and three steals and shared the team lead with Matt Walker as each had three assists.
DePauw shot 47.9 percent from the floor, while Oberlin connected on just 42.5 percent. The Tigers committed just 11 turnovers to Oberlin's 18 and held a 19-6 edge in points off of turnovers.
DePauw returns to NCAC action on Wednesday, January 23, when it hosts Wittenberg at 8 p.m.
For more information on the DePauw men's basketball program, follow DePauw on Twitter (@DePauwAthletics / @DePauw_MBB) or like them on Facebook (www.facebook.com/DePauwAthletics).
Back