Bridges Sets Records, Named NCAC Athlete of the Week
January 21, 2013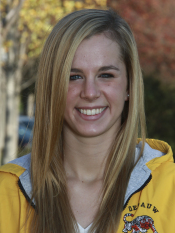 Greencastle, Ind. – DePauw freshman Caroline Bridges (Mequon, Wis./University School Milwaukee) claimed her first North Coast Athletic Conference accolade as she notched this week's Women's Swimming and Diving Athlete of the Week award after her performance in a 138-83 victory over Illinois Wesleyan.
This past weekend, Bridges set pool records at Illinois Wesleyan in the 100-yard freestyle (53.04) and as a key cog in the 200 free relay squad that stopped the clock at 1:40.06. In her other event, the 50 free, she was the first to touch the wall, with a time of 24.80.
Her times this weekend weren't even her best times of the year. Bridges set personal collegiate bests earlier this season at the DePauw Invitational in Erdmann Natatorium as she registered a 24.26 in the 50 free and a 52.36 in the 100 free.
The DePauw women's swimming and diving squad dives back into the pool this weekend as it welcomes the University of Chicago on senior day. The meet begins at 1 p.m. inside Erdmann Natatorium.
For more information on the DePauw women's swimming and diving program, follow DePauw on Twitter (@DePauwAthletics / @DePauwWSwim) or like them on Facebook (www.facebook.com/DePauwAthletics).
Back