Gasaway Nets 27 to Lead 18-0 Tigers to Win
January 23, 2013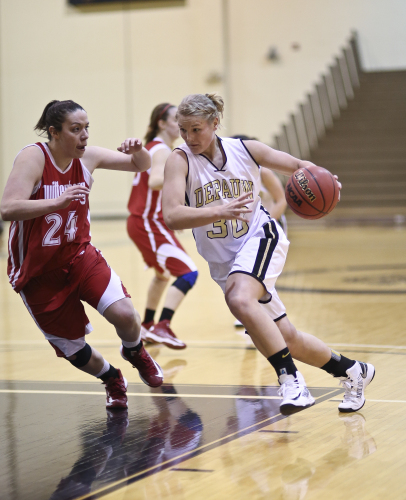 Greencastle, Ind. - DePauw junior Alex Gasaway (pictured) scored a season-high 27 points in just 18 minutes including 16 points in the second half, as the top-ranked Tigers topped visiting Wittenberg, 74-37, in North Coast Athletic Conference action at the Neal Fieldhouse.

The Tigers improved to 18-0 overall and 9-0 in conference play, while Wittenberg dropped to 8-9 overall and 4-4 in the NCAC.

DePauw jumped out to an 8-0 lead as Gasaway scored six and Ellie Pearson added a pair. The visiting Tigers trailed by just two at 16-14 after Kim Replogle hit a jumper with 11:37 remaining in the half.

Kathleen Molloy canned a pair of free throws before Gasaway knocked down a jumper and hit a three to extend DePauw's lead to nine. Wittenberg's Ali Miller slowed the run with a layup, but Alison Stephens responded with a three-point play followed by baskets from Savannah Trees and Kate Walker to make it 30-16. DePauw went to the break with a 36-18 lead.

Wittenberg was within 17 at 41-24 early in the second half, but DePauw sealed the victory with a 30-6 stretch.

Gasaway hit 7-of-11 field goals and was 12 of 13 from the line to finish just one point shy of matching her career-high which was at Wittenberg last year. Trees finished with 11 in the win. Pearson snagged a game-high nine rebounds, blocked four shots, totaled four steals and dished out two assists.

Amber Rice led Wittenberg with eight points and shared rebounding honors with Karen Daniel-Hamberg as each had six.

DePauw hosts Ohio Wesleyan on Saturday at 1 p.m., while Wittenberg hosts Oberlin.

For more information on the DePauw women's basketball program, follow DePauw on Twitter (@DePauwAthletics / @DePauw_WBB) or like them on Facebook (www.facebook.com/DePauwAthletics).
Back