Setting the Pace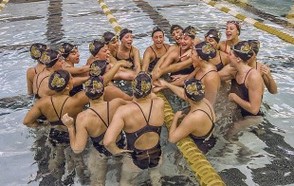 January 24, 2013
It's an hour and a half until sunrise, and most of the students who remain at DePauw during Winter Term won't get out of bed for at least that long. Outside, the dark and cold winter morning does nothing to hurry that moment. But not far from where they sleep, some of their classmates are wide awake, and contrary to any natural impulse, they are in swimwear.
The women's swimming and diving team begins its January practices at 6:30 a.m. and finishes just before morning classes. Incredibly, this schedule is a full hour later than the rest of the season.
"We just get into a routine," says Nicole L. Rossillo, a senior co-captain. "It's something you get used to – a habit. We're here for the sport."
Throughout most of the year, Rossillo and her teammates balance being students and being athletes, but Winter Term simplifies things. Those who take a class don't have the full schedule of the fall or spring semesters to manage, freeing parts of the brain that would otherwise linger on upcoming project deadlines. With the conference championships less than a month away, it's perfect timing.
"This month is probably the most important time we have as a team," senior swimmer Kelly A. Harms says. "The whole season is important, but right now is our chance to fine-tune all the details before we go to conference. It's critical for us to be on campus right now."
The opportunity to travel the world or test the waters of a potential career during Winter Term is one of many reasons DePauw appeals to high school students in the first place. But student-athletes who train and compete during Winter Term typically forgo off-campus study during the intercession period – though many, such as Harms, who traveled to Italy during an alternative May Term trip as a junior, still find a way.
In the past, team members have been granted leaves for internships or independent study during January; this year, with exception of one swimmer who spent a week away from campus, the entire team remained at DePauw to train. The optional captain's practices, held last summer before the team could officially meet, were similarly popular. This year, the team has something to prove – to themselves and to their new coach.
Last April, long-time head coach Mary M. Bretscher announced her retirement from coaching. Bretscher, who launched the women's swimming and diving program in 1974, had been the first and only coach in its history. Uncertain about who would take her place, the change worried even the team's newest members.
"It was hard," sophomore swimmer Emily A. Weber says of coping with Bretscher's retirement. "Being under Mary's belt and seeing what I accomplished as a freshman made me so excited for this year. It can be really hard to adjust to a new coach, so when Mary told us she was retiring, I thought, 'Oh no, it's going to be like repeating freshman year all over again.'"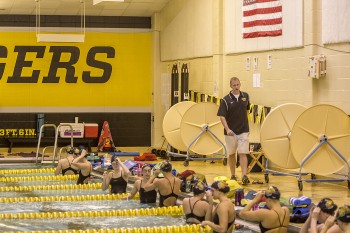 Worry turned into excitement two months later when Matthew C. Ense was announced as Bretscher's replacement. Ense had been an assistant coach at Denison University, where he helped the men's team to the 2011 NCAA Division III title, snapping Kenyon College's 31-year streak. After the team repeated as champions in 2012, Ense was named CollegeSwimming.com's Rising Assistant Coach of the Year. Denison head coach Greg Parini called him "his best assistant coach in his 25 years."
"We understood that Matt knows swimming," Weber says. "We knew he was going to pick the program up."
"Matt comes from the top programs in the country, so we were nervous at first," co-captain Rossillo adds. "But were ready to work hard. We wanted to place at nationals. Matt is definitely helping us get there. We have faith in him."
Now in the middle of their season, with a 4-1 record in dual meets heading into a weekend match-up against the University of Chicago, the team hopes to keep their momentum as the Feb. 17 conference championships draw near.
Ense didn't have to start from scratch quite the way his predecessor did. He inherited a talented team of mostly freshmen and sophomores, and with Bretscher remaining at DePauw as associate athletic director, he points out that he benefits from having "the history of the program just down the hallway." He's also had the support of seniors on the team, such as Harms and Rossillo, eager to leave their mark on the beginning of the program's new chapter.
"The seniors have done an amazing job this year leading the team and showing the rest of the team their vision for where they want the program to go," Ense says. "They want to be remembered for their legacy here."
"It's been great to be a senior on this team," Harms says. "I can remember captain's practices during other years, and maybe three or four girls showed up. This year, almost the entire team would be there. I think it's the closest team we've ever had. It's just been a really cool experience."
Back