Women's Swimming Drops Senior Day Meet to Eighth-ranked Chicago
January 26, 2013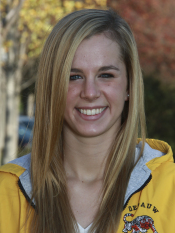 Greencastle, Ind. - DePauw dropped to 4-2 on the season following a 176-123 Senior Day loss to eighth-ranked University of Chicago at the Erdmann Natatorium.
Caroline Bridges picked up three individual wins as she touched first in the 200-yard freestyle in 1:57.61 as well as in the 50 free in 24.56 seconds and the 100 free in 53.19 seconds.

Emily Weber placed second in the 1000 free in 10:41.77 as well as the 200 free (1:58.04) and the 500 free (5:16.02).
Allison Kirby was second in the 100 breaststroke in 1:10.23 in addition to the 200 breast (2:31.62), while Reese Edwards was runner-up in the 100 backstroke (1:01.94) and the 200 back (2:14.32). Also finishing second were Morgan Graves in the 100 butterfly (1:02.13) and Nicole Rossillo in the 200 individual medley (2:16.10).
Chelsea Courtney turned in a pair of second-place showings in diving with 239.05 points on the one-meter board and 198.80 in three-meter competition.
The Tigers' 400 free relay of Bridges, Annaleise Dehnke, Erin Horne and Weber wrapped up the meet with a win in 3:36.69.
DePauw wraps up the dual meet portion of its schedule on Saturday, February 2, when it travels to Rose-Hulman for a 1 p.m. contest.

For more information on the DePauw women's swimming and diving program, follow DePauw on Twitter (@DePauwAthletics / @DePauwWswim) or like them on Facebook (www.facebook.com/DePauwAthletics).
Licensed to DePauw University      HY-TEK's MEET MANAGER 4.0 1/26/2013 05:11 PM
                         Chicago at DePauw - 1/26/2013                         
                                    Results                                    
 
Event 1  Women 200 Yard Medley Relay
===============================================================================
    School                                                        Finals        
===============================================================================
  1 University of Chicago  'A'                                  1:53.18  
     1) Harris, Jenna R FR              2) Hill, Jenny C SO               
     3) Law, Jen J FR                   4) Grubelich, Grete K SR          
                                1:01.17 ( )     1:53.18 (52.01)                    
  2 DePauw University-IN  'A'                                   1:54.43  
     1) Rossillo, Nicole L SR           2) Kirby, Allison B JR            
     3) Graves, Morgan R FR             4) Lehmann, Courtney J SR         
                  29.56     1:02.01 (32.45)     1:54.43 (52.42)                    
  3 University of Chicago  'B'                                  1:54.86  
     1) McPike, Andrea SR               2) Cheung, Natalie C FR           
     3) Stewart, Tatum M SR             4) Taylor, Kate M SR              
                                                    1:29.53 ( )     1:54.86 (25.33)
  4 DePauw University-IN  'B'                                   1:55.42  
     1) Edwards, Reese H FR             2) Jennings, Bre N SR             
     3) Harms, Kelly A SR               4) Horne, Erin K FR               
                  28.78                             1:30.10 ( )     1:55.42 (25.32)
  5 University of Chicago  'C'                                 x1:56.69  
     1) Petrossian, Natalie A FR        2) Ho, Tiffany T SO               
     3) Yuen, Vivian JR                 4) Wimer, Gabrielle E FR          
                  31.65     1:03.59 (31.94)     1:30.16 (26.57)     1:56.69 (26.53)
  6 DePauw University-IN  'D'                                  x2:04.13  
     1) Mazanec, Rachel E JR            2) Hall, Cory V FR                
     3) Johnson, Laurel E FR            4) Mercer, Rachael A SR           
                  31.70     1:09.28 (37.58)     1:38.12 (28.84)     2:04.13 (26.01)
 
Event 3  Women 1000 Yard Freestyle
===============================================================================
    Name                    Year School                           Finals        
===============================================================================
  1 Millen, Bizzy A           SO Chicago                       10:39.80  
  2 Weber, Emily A            SO DePauw-IN                     10:41.77  
                  29.62     1:01.97 (32.35)     1:34.49 (32.52)     2:07.19 (32.70)
        2:39.64 (32.45)     3:12.05 (32.41)     3:44.67 (32.62)     4:17.18 (32.51)
        4:49.60 (32.42)     5:22.24 (32.64)     5:54.63 (32.39)     6:26.86 (32.23)
        6:59.08 (32.22)     7:31.10 (32.02)     8:03.09 (31.99)                    
            9:06.52 ( )  10:41.77 (1:35.25)                                        
  3 Zerbini, Dana M           FR DePauw-IN                     11:04.01  
                  29.73 11:04.01 (10:34.28)                                        
  4 Runyan, Kelly M           SR Chicago                       11:04.77  
                  30.91     1:04.28 (33.37)     1:37.88 (33.60)     2:11.37 (33.49)
        2:44.88 (33.51)     3:18.39 (33.51)     3:51.91 (33.52)     4:25.37 (33.46)
        4:58.78 (33.41)     5:32.27 (33.49)     6:05.57 (33.30)     6:38.97 (33.40)
        7:12.38 (33.41)     7:45.81 (33.43)     8:19.32 (33.51)     8:52.68 (33.36)
        9:25.82 (33.14)     9:59.26 (33.44)    10:32.49 (33.23)    11:04.77 (32.28)
  5 Crain, Katherine M        SR Chicago                       11:09.40  
                  29.43     1:01.78 (32.35)                                        
            2:40.72 ( )     3:14.09 (33.37)     3:47.54 (33.45)     4:21.16 (33.62)
        4:55.11 (33.95)     5:28.95 (33.84)     6:02.83 (33.88)     6:36.82 (33.99)
      7:45.01 (1:08.19)                                                 8:52.96 ( )
        9:27.36 (34.40)    10:01.56 (34.20)  11:09.40 (1:07.84)                    
  6 Hall, Cory V              FR DePauw-IN                     12:40.73  
                  33.14     1:10.21 (37.07)     1:48.90 (38.69)     2:27.43 (38.53)
        3:05.73 (38.30)     3:44.30 (38.57)     4:23.41 (39.11)     5:02.30 (38.89)
        5:41.42 (39.12)     6:20.19 (38.77)     6:58.24 (38.05)     7:36.33 (38.09)
        8:14.93 (38.60)     8:52.89 (37.96)     9:31.11 (38.22)    10:09.56 (38.45)
       10:47.57 (38.01)    11:25.96 (38.39)    12:04.10 (38.14)    12:40.73 (36.63)
 
Event 5  Women 200 Yard Freestyle
===============================================================================
    Name                    Year School                           Finals        
===============================================================================
  1 Bridges, Caroline L       FR DePauw-IN                      1:57.61  
                                  59.03 ( )     1:29.15 (30.12)     1:57.61 (28.46)
  2 Weber, Emily A            SO DePauw-IN                      1:58.04  
                                  58.76 ( )     1:28.96 (30.20)     1:58.04 (29.08)
  3 Taylor, Kate M            SR Chicago                        1:58.27  
                  28.17       58.42 (30.25)     1:28.89 (30.47)     1:58.27 (29.38)
  4 Chu, Karen L              FR Chicago                        1:59.60  
                  27.64       57.73 (30.09)     1:28.64 (30.91)     1:59.60 (30.96)
  5 Rossillo, Nicole L        SR DePauw-IN                      2:00.92  
                  28.46       59.39 (30.93)     1:30.25 (30.86)     2:00.92 (30.67)
  6 Mercer, Rachael A         SR DePauw-IN                     x2:05.53  
                  28.77     1:00.29 (31.52)   2:05.53 (1:05.24)                    
  7 Wimer, Gabrielle E        FR Chicago                        2:05.64  
                  29.86     1:02.17 (32.31)     1:34.27 (32.10)     2:05.64 (31.37)
  8 Johnson, Laurel E         FR DePauw-IN                     x2:10.10  
                  29.86     1:02.82 (32.96)     1:36.36 (33.54)     2:10.10 (33.74)
 
Event 7  Women 100 Yard Backstroke
===============================================================================
    Name                    Year School                           Finals        
===============================================================================
  1 Yuen, Vivian              JR Chicago                        1:00.41  
                  29.46     1:00.41 (30.95)                                        
  2 Edwards, Reese H          FR DePauw-IN                      1:01.94  
  3 Haynes, Emma C            SO DePauw-IN                      1:03.31  
  4 Harris, Jenna R           FR Chicago                        1:03.75  
  5 Reilly, Mary E            SO DePauw-IN                      1:04.65  
                  31.49     1:04.65 (33.16)                                        
  6 Petrossian, Natalie A     FR Chicago                        1:04.75  
                  31.63     1:04.75 (33.12)                                        
  7 Mazanec, Rachel E         JR DePauw-IN                     x1:06.75  
 
Event 9  Women 100 Yard Breaststroke
===============================================================================
    Name                    Year School                           Finals        
===============================================================================
  1 Hu, Ciara T               FR Chicago                        1:09.18  
  2 Kirby, Allison B          JR DePauw-IN                      1:10.23  
                  33.24     1:10.23 (36.99)                                        
  3 Cheung, Natalie C         FR Chicago                        1:10.45  
                  33.78     1:10.45 (36.67)                                        
  4 Ho, Tiffany T             SO Chicago                        1:11.89  
                  34.34     1:11.89 (37.55)                                        
  5 Jennings, Bre N           SR DePauw-IN                      1:12.34  
                  34.35     1:12.34 (37.99)                                        
  6 Loek, Hannah M            SR Chicago                       x1:13.32  
                  34.30     1:13.32 (39.02)                                        
  7 Devillebichot, Katherine  SR DePauw-IN                      1:15.03  
                  35.44     1:15.03 (39.59)                                        
 
Event 11  Women 200 Yard Butterfly
===============================================================================
    Name                    Year School                           Finals        
===============================================================================
  1 Law, Jen J                FR Chicago                        2:12.40  
  2 Stewart, Tatum M          SR Chicago                        2:13.34  
                  29.39     1:03.35 (33.96)     1:38.20 (34.85)     2:13.34 (35.14)
  3 Pendleton, Julie M        SR Chicago                        2:17.45  
                                1:06.25 ( )     1:41.86 (35.61)     2:17.45 (35.59)
  4 Graves, Morgan R          FR DePauw-IN                      2:17.67  
                  30.31                             1:42.23 ( )     2:17.67 (35.44)
  5 Harms, Kelly A            SR DePauw-IN                      2:24.74  
                  31.64     1:08.05 (36.41)     1:45.97 (37.92)     2:24.74 (38.77)
  6 Hochwalt, Maddie M        SO DePauw-IN                      2:31.39  
                  32.76     1:11.78 (39.02)     1:52.69 (40.91)     2:31.39 (38.70)
 
Event 13  Women 50 Yard Freestyle
===============================================================================
    Name                    Year School                           Finals        
===============================================================================
  1 Bridges, Caroline L       FR DePauw-IN                        24.56  
  2 Hill, Jenny C             SO Chicago                          24.79  
  3 Dehnke, Annaleise K       FR DePauw-IN                        25.37  
  4 Lehmann, Courtney J       SR DePauw-IN                        25.67  
  5 McPike, Andrea            SR Chicago                          25.81  
  6 Grubelich, Grete K        SR Chicago                          26.30  
  7 Reilly, Mary E            SO DePauw-IN                       x26.95  
  8 Devillebichot, Katherine  SR DePauw-IN                       x26.99  
 
Event 15  Women 1 mtr Diving
===============================================================================
    Name                    Year School                           Finals        
===============================================================================
  1 Schmidt, Becky            SR Chicago                         249.80  
  2 Courtney, Chelsea L       SR DePauw-IN                       239.05  
  3 Crandall, Morgan E        SR DePauw-IN                       180.95  
  4 Gross, Sofia R            SO Chicago                         162.40  
  5 Bell, Tobin L             SR DePauw-IN                       104.60  
 
Event 17  Women 100 Yard Freestyle
===============================================================================
    Name                    Year School                           Finals        
===============================================================================
  1 Bridges, Caroline L       FR DePauw-IN                        53.19  
                  25.86       53.19 (27.33)                                        
  2 Hill, Jenny C             SO Chicago                          54.58  
                  26.45       54.58 (28.13)                                        
  3 Millen, Bizzy A           SO Chicago                          55.10  
                  26.33       55.10 (28.77)                                        
  4 Harris, Jenna R           FR Chicago                          55.12  
                  26.42       55.12 (28.70)                                        
  5 Grubelich, Grete K        SR Chicago                         x55.77  
                  26.73       55.77 (29.04)                                        
  6 Horne, Erin K             FR DePauw-IN                        55.84  
                  27.08       55.84 (28.76)                                        
  7 Dehnke, Annaleise K       FR DePauw-IN                        56.14  
                  27.00       56.14 (29.14)                                        
  8 Lehmann, Courtney J       SR DePauw-IN                       x57.91  
                  27.02       57.91 (30.89)                                        
  9 Johnson, Laurel E         FR DePauw-IN                       x58.31  
                  27.93       58.31 (30.38)                                        
 10 Reilly, Mary E            SO DePauw-IN                       x58.85  
                  28.14       58.85 (30.71)                                        
 
Event 19  Women 200 Yard Backstroke
===============================================================================
    Name                    Year School                           Finals        
===============================================================================
  1 Law, Jen J                FR Chicago                        2:12.29  
                  31.37     1:04.76 (33.39)     1:38.26 (33.50)     2:12.29 (34.03)
  2 Edwards, Reese H          FR DePauw-IN                      2:14.32  
                  31.24   1:40.43 (1:09.19)     2:14.32 (33.89)                    
  3 Chu, Karen L              FR Chicago                        2:15.65  
                  32.94     1:07.24 (34.30)     1:41.68 (34.44)     2:15.65 (33.97)
  4 Rossillo, Nicole L        SR DePauw-IN                      2:16.16  
                  32.14   1:41.69 (1:09.55)     2:16.16 (34.47)                    
  5 Taylor, Kate M            SR Chicago                        2:16.91  
                  33.42   2:16.91 (1:43.49)                                        
  6 Haynes, Emma C            SO DePauw-IN                      2:18.58  
                  33.80     1:09.11 (35.31)     1:43.93 (34.82)     2:18.58 (34.65)
  7 Mazanec, Rachel E         JR DePauw-IN                     x2:26.31  
                  34.58     1:11.49 (36.91)     1:49.04 (37.55)     2:26.31 (37.27)
 
Event 21  Women 200 Yard Breaststroke
===============================================================================
    Name                    Year School                           Finals        
===============================================================================
  1 Cheung, Natalie C         FR Chicago                        2:29.61  
                  35.24     1:12.38 (37.14)     1:50.64 (38.26)     2:29.61 (38.97)
  2 Kirby, Allison B          JR DePauw-IN                      2:31.62  
                  35.33   2:31.78 (1:56.45)         2:31.62 ( )                    
  3 Ho, Tiffany T             SO Chicago                        2:33.38  
                  35.14     1:13.90 (38.76)     1:53.52 (39.62)     2:33.38 (39.86)
  4 Petrossian, Natalie A     FR Chicago                        2:35.82  
                  35.25   2:35.82 (2:00.57)                                        
  5 Jennings, Bre N           SR DePauw-IN                      2:36.09  
                  35.66   1:56.19 (1:20.53)     2:36.25 (40.06)         2:36.09 ( )
 
Event 23  Women 500 Yard Freestyle
===============================================================================
    Name                    Year School                           Finals        
===============================================================================
  1 Hu, Ciara T               FR Chicago                        5:13.13  
                  30.03     1:02.22 (32.19)     1:34.56 (32.34)   5:13.13 (3:38.57)
  2 Weber, Emily A            SO DePauw-IN                      5:16.02  
                  29.82     1:01.86 (32.04)     1:33.72 (31.86)   4:12.87 (2:39.15)
        4:44.51 (31.64)     5:16.02 (31.51)                                        
  3 Loek, Hannah M            SR Chicago                        5:22.04  
                  29.45     1:01.41 (31.96)     1:33.87 (32.46)   5:22.04 (3:48.17)
  4 Zerbini, Dana M           FR DePauw-IN                      5:22.36  
                  30.00     1:02.55 (32.55)     1:35.05 (32.50)   5:22.36 (3:47.31)
  5 Crain, Katherine M        SR Chicago                        5:24.57  
                  29.61                             1:34.62 ( )   3:45.77 (2:11.15)
        4:19.01 (33.24)     4:52.09 (33.08)     5:24.57 (32.48)                    
  6 Runyan, Kelly M           SR Chicago                       x5:31.49  
                  30.41     1:03.51 (33.10)     1:37.02 (33.51)   5:31.49 (3:54.47)
  7 Mercer, Rachael A         SR DePauw-IN                      5:41.85  
                  30.93     1:04.95 (34.02)     1:39.64 (34.69)   5:41.85 (4:02.21)
  8 Hall, Cory V              FR DePauw-IN                     x6:11.35  
                  33.56     1:10.90 (37.34)     1:48.98 (38.08)   6:11.35 (4:22.37)
 
Event 25  Women 100 Yard Butterfly
===============================================================================
    Name                    Year School                           Finals        
===============================================================================
  1 Stewart, Tatum M          SR Chicago                        1:00.59  
                  28.35     1:00.59 (32.24)                                        
  2 Graves, Morgan R          FR DePauw-IN                      1:02.13  
                  28.88     1:02.13 (33.25)                                        
  3 Wimer, Gabrielle E        FR Chicago                        1:03.51  
                  30.08     1:03.51 (33.43)                                        
  4 McPike, Andrea            SR Chicago                        1:05.04  
                  29.29     1:05.04 (35.75)                                        
  5 Harms, Kelly A            SR DePauw-IN                      1:06.08  
  6 Hochwalt, Maddie M        SO DePauw-IN                      1:06.77  
                  31.75     1:06.77 (35.02)                                        
 
Event 27  Women 3 mtr Diving
===============================================================================
    Name                    Year School                           Finals        
===============================================================================
  1 Schmidt, Becky            SR Chicago                         206.75  
  2 Courtney, Chelsea L       SR DePauw-IN                       198.80  
  3 Crandall, Morgan E        SR DePauw-IN                       173.95  
  4 Gross, Sofia R            SO Chicago                         170.40  
 
Event 29  Women 200 Yard IM
===============================================================================
    Name                    Year School                           Finals        
===============================================================================
  1 Law, Jen J                FR Chicago                        2:14.26  
  2 Rossillo, Nicole L        SR DePauw-IN                      2:16.10  
  3 Ho, Tiffany T             SO Chicago                        2:17.76  
  4 Kirby, Allison B          JR DePauw-IN                      2:20.85  
                                                    1:47.61 ( )     2:20.85 (33.24)
  5 Graves, Morgan R          FR DePauw-IN                      2:22.95  
                  29.93     1:08.58 (38.65)     1:50.23 (41.65)     2:22.95 (32.72)
  6 Pendleton, Julie M        SR Chicago                        2:23.63  
                  30.62     1:10.08 (39.46)     1:52.17 (42.09)     2:23.63 (31.46)
  7 Harms, Kelly A            SR DePauw-IN                     x2:23.84  
                  31.11     1:08.49 (37.38)     1:51.54 (43.05)     2:23.84 (32.30)
 
Event 31  Women 400 Yard Freestyle Relay
===============================================================================
    School                                                        Finals        
===============================================================================
  1 DePauw University-IN  'A'                                   3:36.69  
     1) Bridges, Caroline L FR          2) Dehnke, Annaleise K FR         
     3) Horne, Erin K FR                4) Weber, Emily A SO              
                  26.26       53.81 (53.81)     1:19.61 (25.80)                    
                                                    3:08.13 ( )         3:36.69 ( )
  2 University of Chicago  'A'                                  3:39.23  
     1) Yuen, Vivian JR                 2) Harris, Jenna R FR             
     3) Hill, Jenny C SO                4) Millen, Bizzy A SO             
                  26.67   1:01.96 (1:01.96)     1:21.06 (19.10)     1:49.66 (47.70)
        2:15.59 (25.93)     2:43.89 (54.23)     3:39.23 (55.34)                    
  3 DePauw University-IN  'B'                                   3:45.83  
     1) Edwards, Reese H FR             2) Lehmann, Courtney J SR         
     3) Zerbini, Dana M FR              4) Mercer, Rachael A SR           
  4 University of Chicago  'B'                                  3:46.02  
     1) Taylor, Kate M SR               2) McPike, Andrea SR              
     3) Stewart, Tatum M SR             4) Grubelich, Grete K SR          
                  27.72                             1:23.57 ( )         1:53.83 ( )
        2:20.69 (26.86)                             3:17.07 ( )         3:46.02 ( )
  5 DePauw University-IN  'C'                                  x3:50.00  
     1) Devillebichot, Katherine M SR   2) Haynes, Emma C SO              
     3) Reilly, Mary E SO               4) Johnson, Laurel E FR           
                  28.79   1:02.62 (1:02.62)     1:30.05 (27.43)     2:02.10 (59.48)
        2:30.03 (27.93)     3:01.25 (59.15)     3:28.53 (27.28)     3:50.00 (48.75)
  6 University of Chicago  'C'                                 x3:52.12  
     1) Hu, Ciara T FR                  2) Chu, Karen L FR                
     3) Crain, Katherine M SR           4) Runyan, Kelly M SR             
                  27.52       57.04 (57.04)                         1:54.04 (57.00)
        2:21.98 (27.94)     2:49.75 (55.71)     3:20.60 (30.85)   3:52.12 (1:02.37)
 

Back