Praise for New Book by Prof. Valarie Ziegler, Enticed by Eden
January 28, 2013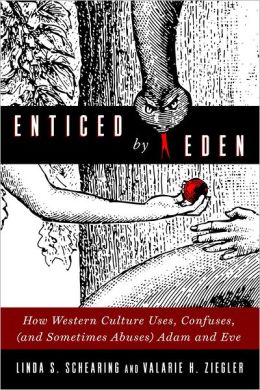 "One can wonder if Adam and Eve would be surprised that their names, and their legends, live on so many millennia later," notes Publishers Weekly in a starred review of Enticed by Eden: How Western Culture Uses, Confuses, (and Sometimes Abuses) Adam and Eve. The book, co-authored by Valarie H. Ziegler, professor of religious studies at DePauw University, and Linda S. Schearing, professor in the department of religious studies at Gonzaga University, will be released on February 1 by Baylor University Press.
"Schearing and Ziegler, professors of religious studies at Gonzaga and DePauw Universities respectively, have crafted a fascinating survey for a popular audience of how our first parents have lived on in western culture," notes the review. "Beneath the authors' humor can be found serious commentary, not just on the biblical story, but on how modern society views itself through the creation metaphor. The authors do a masterful job of deconstructing the many layers of the legacy of Eden. At times hilarious but always thoughtful, this is a wonderful read, a worthy addition to the literature of religion and culture."
Read more here.
According to the publisher, "Though it may not have been the intent of Genesis 1-3, the biblical first couple has been used for generations to sell consumable goods and strange ideologies -- both salacious and holy -- to willing western masses. And, Linda Schearing and Valarie Ziegler argue, Adam and Eve have become archetypal figures for secular and religious society alike as they are transplanted from their ancient garden to a more modern Eden, often with eyebrow-raising consequences. Finding common ground between both religious and secular recastings of Adam and Eve, Schearing
and Ziegler offer page-turning evidence of just how ubiquitous the first couple has become. From online dating services and promises of God-ordained romance to the advertising and selling of games, bathroom fixtures, and even risque? bloomers, Adam and Eve are a hot commodity in modern culture. These strange, confusing, often humorous, and sometimes shocking accounts testify to the myriad of ways in which Genesis 1-3 has been recycled and recreated in the popular imagination, and moreover, in promotion of the Western worldview."
Order Enticed by Eden at the publisher's website or Amazon.com.
Dr. Ziegler is Walter E. Bundy Professor of Religious Studies at DePauw University, where she also chairs the religious studies department. Her previous book, Diva Julia: The Public Romance and Private Agony of Julia Ward Howe won the inaugural Trinity Prize and was reviewed in the New York Times in 2004. The professor recently addressed the annual joint conference of the American Academy of Religion and the Society of Biblical Literature.
Back