Casey Hooker Named NCAC Men's Swimming Athlete of the Week
January 28, 2013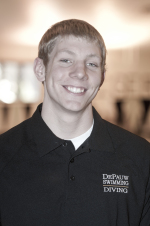 Greencastle, Ind. - After leading ninth-ranked DePauw to a 187-110 victory over eighth-ranked University of Chicago, sophomore Casey Hooker (Rensselaer, Ind./Rensselaer Central) was named the North Coast Athletic Conference Men's Swimming Athlete of the Week.
Hooker picked up individual event victories in the 100-yard butterfly (51.89), 200 fly (1:54.93) and 200 backstroke (1:58.28), while also swimming the lead leg on the winning 400 free relay (3:09.83).
The honor was Hooker's second this year and fourth in his two years at DePauw.
DePauw improved to 7-0 with the win and extended its dual meet win streak to 23. The Tigers wrap up the dual meet portion of the schedule on Saturday, February 2, at Rose-Hulman.
For more information on the DePauw men's swimming and diving program, follow DePauw on Twitter (@DePauwAthletics / @DPUMensSwimming) or like them on Facebook (www.facebook.com/DePauwAthletics).
Back