Ninth-ranked DePauw Completes 8-0 Dual Meet Slate; Seniors Finish 29-2
February 2, 2013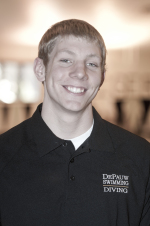 Terre Haute, Ind. - Ninth-ranked DePauw wrapped up the dual meet portion of its schedule with a 138-130 victory at Rose-Hulman to finish 8-0.
The win was the Tigers' 24th straight dual meet victory and the seniors finished their careers with a 29-2 record.
Casey Hooker (pictured) was a double winner for the Tigers in the 200-yard freestyle (1:42.50) and the 500 free (4:48.06). Also taking firsts were Blake Lehmann in the 100 backstroke (55.03), Matt Gleason in the 200 butterfly (2:00.28), Jack Burgeson in the 100 free (47.94) and Alex Alfonso in the 200 individual medley (1:57.98).
The Tigers' 200 medley relay of Lehmann, Matt Kukurugya, Alfonso and Burgeson won in 1:36.03, while the 200 free relay of Lemann, Joe Hessburg, Cam Johnson and Nathan Mullins was second in 1:27.33.
The Tigers return to action February 13-16 at the North Coast Athletic Conference Championships in Canton, Ohio.
For more information on the DePauw men's swimming and diving program, follow DePauw on Twitter (@DePauwAthletics / @DPUMensSwimming) or like them on Facebook (www.facebook.com/DePauwAthletics).
Licensed to DePauw University       HY-TEK's MEET MANAGER 4.0 2/2/2013 05:50 PM
                  2013 DePauw vs. Rose-Hulman Dual - 2/2/2013                  
                                    Results                                    
 
Event 2  Men 200 Yard Medley Relay
===============================================================================
    School                                                        Finals        
===============================================================================
  1 DePauw University-IN  'A'                                   1:36.03  
     1) Lehmann, Blake R 19             2) Kukurugya, Matt A 21           
     3) Alfonso, Alex I 19              4) Burgeson, Jack 19              
                  24.55       52.36 (27.81)     1:36.03 (43.67)                    
  2 Rose-Hulman Institute of Techn-IN  'A'                      1:36.39  
     1) Huster, John Craig C 22         2) Podgorski, Andrew H 21         
     3) Martin, Orion P 17              4) Hintz, Paul C 18               
                  24.39       51.90 (27.51)     1:14.47 (22.57)     1:36.39 (21.92)
  3 DePauw University-IN  'B'                                   1:39.41  
     1) Ercoli, Chris 19                2) Petersen, Andrew B 18          
     3) Gleason, Matt P 21              4) Hessburg, Joe D 20             
                  26.65       54.34 (27.69)     1:18.11 (23.77)     1:39.41 (21.30)
  4 Rose-Hulman Institute of Techn-IN  'B'                      1:41.47  
     1) Enrico, Tai J 18                2) Yeoman, Marshall S 20          
     3) Yuhas, Eric M 18                4) Wuest, Steve J 21              
                  26.44       55.19 (28.75)     1:18.86 (23.67)     1:41.47 (22.61)
  5 DePauw University-IN  'C'                                  x1:43.41  
     1) Wilson, Hunter J 19             2) Mullins, Nathan 20             
     3) Strubbe, JR R 20                4) Haeske, Matt R 21              
                  27.49       54.82 (27.33)     1:20.69 (25.87)     1:43.41 (22.72)
  6 Rose-Hulman Institute of Techn-IN  'C'                     x1:45.83  
     1) Innocent-Dolor, Jon-L 19        2) Ryan, Logan F 21               
     3) Horve, Gunnar 18                4) Smith, Drew T 19               
                  27.71       56.48 (28.77)     1:21.80 (25.32)     1:45.83 (24.03)
 
Event 4  Men 200 Yard Freestyle
===============================================================================
    Name                     Age School                           Finals        
===============================================================================
  1 Hooker, Casey A           20 DePauw-IN                      1:42.50  
  2 Stern, Brady A            18 Rose-Hulman-IN                 1:49.61  
  3 Bantista, Jordan C        20 DePauw-IN                      1:50.53  
  4 Hintz, Paul C             18 Rose-Hulman-IN                 1:51.31  
  5 Macmillan, Duncan T       19 DePauw-IN                      1:54.89  
  6 Lippy, Mitchell W         18 Rose-Hulman-IN                 1:59.12  
 
Event 6  Men 100 Yard Backstroke
===============================================================================
    Name                     Age School                           Finals        
===============================================================================
  1 Lehmann, Blake R          19 DePauw-IN                        55.03  
                  26.11       55.03 (28.92)                                        
  2 Morrison, George G        21 DePauw-IN                        55.36  
                  26.67       55.36 (28.69)                                        
  3 Enrico, Tai J             18 Rose-Hulman-IN                   56.31  
                  27.21       56.31 (29.10)                                        
  4 Ercoli, Chris             19 DePauw-IN                        58.28  
                  28.74       58.28 (29.54)                                        
  5 Wilson, Hunter J          19 DePauw-IN                       x58.65  
                  28.42       58.65 (30.23)                                        
  6 Yuhas, Eric M             18 Rose-Hulman-IN                   58.88  
                  27.95       58.88 (30.93)                                        
  7 Horve, Gunnar             18 Rose-Hulman-IN                 1:03.77  
                  30.94     1:03.77 (32.83)                                        
 
Event 8  Men 100 Yard Breaststroke
===============================================================================
    Name                     Age School                           Finals        
===============================================================================
  1 Podgorski, Andrew H       21 Rose-Hulman-IN                 1:00.69  
                  28.74     1:00.69 (31.95)                                        
  2 Kukurugya, Matt A         21 DePauw-IN                      1:00.98  
                  28.63     1:00.98 (32.35)                                        
  3 Petersen, Andrew B        18 DePauw-IN                      1:01.97  
                  29.43     1:01.97 (32.54)                                        
  4 Alfonso, Alex I           19 DePauw-IN                      1:02.11  
                  28.99     1:02.11 (33.12)                                        
  5 Mullins, Nathan           20 DePauw-IN                     x1:02.17  
                  28.83     1:02.17 (33.34)                                        
  6 Ryan, Logan F             21 Rose-Hulman-IN                 1:02.63  
                  29.73     1:02.63 (32.90)                                        
  7 Huster, John Craig C      22 Rose-Hulman-IN                 1:04.61  
                  29.96     1:04.61 (34.65)                                        
  8 Smith, Drew T             19 Rose-Hulman-IN                x1:04.72  
                  30.10     1:04.72 (34.62)                                        
  9 Yeoman, Marshall S        20 Rose-Hulman-IN                x1:04.77  
                  30.49     1:04.77 (34.28)                                        
 10 Innocent-Dolor, Jon-L     19 Rose-Hulman-IN                x1:04.93  
                  30.71     1:04.93 (34.22)                                        
 11 Rose, Noam J              19 DePauw-IN                     x1:05.91  
                  30.08     1:05.91 (35.83)                                        
 12 Warfield, Trevor          18 DePauw-IN                     x1:09.05  
                  32.40     1:09.05 (36.65)                                        
 13 Meininger, Ross           21 Rose-Hulman-IN                x1:09.87  
                  32.67     1:09.87 (37.20)                                        
 14 French-Seats, Nicholas    19 Rose-Hulman-IN                x1:15.28  
                  34.83     1:15.28 (40.45)                                        
 
Event 10  Men 200 Yard Butterfly
===============================================================================
    Name                     Age School                           Finals        
===============================================================================
  1 Gleason, Matt P           21 DePauw-IN                      2:00.28  
                  26.59       57.25 (30.66)     1:29.11 (31.86)     2:00.28 (31.17)
  2 King, Matt J              18 Rose-Hulman-IN                 2:00.63  
                  27.92       58.49 (30.57)     1:29.89 (31.40)     2:00.63 (30.74)
  3 Hiller, Tommy C           20 DePauw-IN                      2:02.80  
                  27.73       58.79 (31.06)     1:31.51 (32.72)     2:02.80 (31.29)
  4 Strubbe, JR R             20 DePauw-IN                      2:06.21  
                  28.45     1:00.47 (32.02)     1:32.61 (32.14)     2:06.21 (33.60)
  5 McMurtry, Stephen T       19 DePauw-IN                     x2:09.18  
                  27.61       59.91 (32.30)     1:33.33 (33.42)     2:09.18 (35.85)
  6 Housman, Stephen          20 Rose-Hulman-IN                 2:19.45  
                  30.03     1:05.67 (35.64)     1:42.40 (36.73)     2:19.45 (37.05)
  7 Browder, Sam S            18 Rose-Hulman-IN                 2:24.21  
                  30.90     1:07.40 (36.50)     1:45.85 (38.45)     2:24.21 (38.36)
 
Event 12  Men 50 Yard Freestyle
===============================================================================
    Name                     Age School                           Finals        
===============================================================================
  1 Martin, Orion P           17 Rose-Hulman-IN                   21.89  
  2 Burgeson, Jack            19 DePauw-IN                        21.96  
  3 McGuinness, Danny P       18 DePauw-IN                        22.06  
  4 Hessburg, Joe D           20 DePauw-IN                        22.20  
  5 Johnson, Cam M            20 DePauw-IN                       x22.82  
  6 Wuest, Steve J            21 Rose-Hulman-IN                   23.69  
  7 Curts, Mike M             21 DePauw-IN                       x24.20  
  8 Sagul, Ryan T             21 Rose-Hulman-IN                   24.90  
  9 Ross, Matt J              22 Rose-Hulman-IN                  x25.13  
 10 Larson, Robert A          20 Rose-Hulman-IN                  x25.75  
 
Event 14  Men 3 mtr Diving
===============================================================================
    Name                     Age School                           Finals        
===============================================================================
  1 Gould, Samuel             19 Rose-Hulman-IN                  272.20  
  2 Maurer, Joshua            19 Rose-Hulman-IN                  219.30  
 
Event 16  Men 100 Yard Freestyle
===============================================================================
    Name                     Age School                           Finals        
===============================================================================
  1 Burgeson, Jack            19 DePauw-IN                        47.94  
                  22.90       47.94 (25.04)                                        
  2 Grissom, Alex A           19 DePauw-IN                        48.32  
                  23.33       48.32 (24.99)                                        
  3 Podgorski, Andrew H       21 Rose-Hulman-IN                   48.62  
                  23.78       48.62 (24.84)                                        
  4 McGuinness, Danny P       18 DePauw-IN                        48.87  
                  24.30       48.87 (24.57)                                        
  5 Hintz, Paul C             18 Rose-Hulman-IN                   49.24  
                  23.91       49.24 (25.33)                                        
  6 Haeske, Matt R            21 DePauw-IN                       x49.59  
                  24.11       49.59 (25.48)                                        
  7 Johnson, Cam M            20 DePauw-IN                       x49.94  
                  22.22       49.94 (27.72)                                        
  8 Kukurugya, Matt A         21 DePauw-IN                       x50.40  
                  23.95       50.40 (26.45)                                        
  9 Wuest, Steve J            21 Rose-Hulman-IN                   51.53  
                  25.19       51.53 (26.34)                                        
 10 Meininger, Ross           21 Rose-Hulman-IN                  x52.88  
                  25.05       52.88 (27.83)                                        
 11 Sagul, Ryan T             21 Rose-Hulman-IN                  x53.85  
                  26.20       53.85 (27.65)                                        
 
Event 18  Men 200 Yard Backstroke
===============================================================================
    Name                     Age School                           Finals        
===============================================================================
  1 Enrico, Tai J             18 Rose-Hulman-IN                 2:00.44  
                  28.42       58.41 (29.99)     1:29.84 (31.43)     2:00.44 (30.60)
  2 Morrison, George G        21 DePauw-IN                      2:01.19  
                  28.28       58.73 (30.45)     1:14.09 (15.36)     2:01.19 (47.10)
  3 Phillips, Spencer S       18 Rose-Hulman-IN                 2:13.71  
                  30.87     1:05.18 (34.31)     1:40.56 (35.38)     2:13.71 (33.15)
  4 Horve, Gunnar             18 Rose-Hulman-IN                 2:18.57  
                  32.02     1:06.63 (34.61)     1:42.82 (36.19)     2:18.57 (35.75)
  5 Larson, Robert A          20 Rose-Hulman-IN                x2:19.32  
                  32.54     1:08.04 (35.50)     1:44.16 (36.12)     2:19.32 (35.16)
 
Event 20  Men 200 Yard Breaststroke
===============================================================================
    Name                     Age School                           Finals        
===============================================================================
  1 Ryan, Logan F             21 Rose-Hulman-IN                 2:15.17  
                  30.48     1:04.32 (33.84)     1:39.24 (34.92)     2:15.17 (35.93)
  2 Petersen, Andrew B        18 DePauw-IN                      2:15.49  
                  30.81     1:05.12 (34.31)     1:40.81 (35.69)     2:15.49 (34.68)
  3 Bantista, Jordan C        20 DePauw-IN                      2:19.46  
                  31.51     1:07.17 (35.66)     1:43.28 (36.11)     2:19.46 (36.18)
  4 Yeoman, Marshall S        20 Rose-Hulman-IN                 2:22.13  
                  31.58     1:07.70 (36.12)     1:45.08 (37.38)     2:22.13 (37.05)
  5 Smith, Drew T             19 Rose-Hulman-IN                 2:22.19  
                  31.68     1:07.56 (35.88)     1:44.75 (37.19)     2:22.19 (37.44)
  6 French-Seats, Nicholas    19 Rose-Hulman-IN                x2:49.47  
                  36.82     1:18.62 (41.80)     2:03.30 (44.68)     2:49.47 (46.17)
 
Event 22  Men 500 Yard Freestyle
===============================================================================
    Name                     Age School                           Finals        
===============================================================================
  1 Hooker, Casey A           20 DePauw-IN                      4:48.06  
                  26.36       55.66 (29.30)     1:25.18 (29.52)     1:54.53 (29.35)
        2:23.78 (29.25)     2:52.01 (28.23)     3:20.43 (28.42)     3:49.26 (28.83)
        4:18.79 (29.53)     4:48.06 (29.27)                                        
  2 King, Matt J              18 Rose-Hulman-IN                 4:50.94  
                  26.65       55.45 (28.80)     1:24.82 (29.37)     1:54.29 (29.47)
        2:23.80 (29.51)     2:52.91 (29.11)     3:22.51 (29.60)     3:52.29 (29.78)
        4:21.78 (29.49)     4:50.94 (29.16)                                        
  3 Grissom, Alex A           19 DePauw-IN                      4:58.62  
                  27.12       56.51 (29.39)     1:26.38 (29.87)     1:56.39 (30.01)
        2:26.44 (30.05)     2:55.89 (29.45)     3:26.38 (30.49)     3:57.33 (30.95)
        4:28.20 (30.87)     4:58.62 (30.42)                                        
  4 Hiller, Tommy C           20 DePauw-IN                      5:09.25  
                  28.15       58.57 (30.42)     1:29.61 (31.04)     2:00.78 (31.17)
        2:32.09 (31.31)     3:03.40 (31.31)     3:35.44 (32.04)     4:07.18 (31.74)
        4:38.65 (31.47)     5:09.25 (30.60)                                        
  5 McMurtry, Stephen T       19 DePauw-IN                     x5:10.79  
                  27.92       59.20 (31.28)     1:30.28 (31.08)     2:01.81 (31.53)
        2:33.16 (31.35)     3:04.37 (31.21)     3:36.97 (32.60)     4:09.20 (32.23)
        4:41.04 (31.84)     5:10.79 (29.75)                                        
  6 Dorn, Kevin               19 Rose-Hulman-IN                 5:11.22  
                  28.09       59.94 (31.85)     1:32.37 (32.43)     2:04.91 (32.54)
        2:37.20 (32.29)     3:08.56 (31.36)     3:39.83 (31.27)     4:10.35 (30.52)
        4:41.18 (30.83)     5:11.22 (30.04)                                        
  7 Lippy, Mitchell W         18 Rose-Hulman-IN                 5:12.01  
                  28.17       59.46 (31.29)     1:31.15 (31.69)     2:02.92 (31.77)
        2:34.92 (32.00)     3:06.74 (31.82)     3:38.47 (31.73)     4:10.17 (31.70)
        4:41.62 (31.45)     5:12.01 (30.39)                                        
  8 Browder, Sam S            18 Rose-Hulman-IN                x5:34.35  
                  29.29     1:01.49 (32.20)     1:34.58 (33.09)     2:08.40 (33.82)
        2:42.25 (33.85)     3:16.44 (34.19)     3:50.83 (34.39)     4:25.41 (34.58)
        5:00.13 (34.72)     5:34.35 (34.22)                                        
 
Event 24  Men 100 Yard Butterfly
===============================================================================
    Name                     Age School                           Finals        
===============================================================================
  1 Martin, Orion P           17 Rose-Hulman-IN                   50.63  
                  23.53       50.63 (27.10)                                        
  2 Huster, John Craig C      22 Rose-Hulman-IN                   51.07  
                  23.92       51.07 (27.15)                                        
  3 Lehmann, Blake R          19 DePauw-IN                        51.71  
                  24.11       51.71 (27.60)                                        
  4 Ross, Matt J              22 Rose-Hulman-IN                   54.43  
                  25.86       54.43 (28.57)                                        
  5 Yuhas, Eric M             18 Rose-Hulman-IN                  x56.03  
                  26.29       56.03 (29.74)                                        
  6 Ercoli, Chris             19 DePauw-IN                        56.58  
                  26.36       56.58 (30.22)                                        
  7 Strubbe, JR R             20 DePauw-IN                        57.16  
                  26.75       57.16 (30.41)                                        
  8 Stern, Brady A            18 Rose-Hulman-IN                  x57.82  
                  27.26       57.82 (30.56)                                        
  9 Wilson, Hunter J          19 DePauw-IN                       x58.36  
                  27.78       58.36 (30.58)                                        
 10 Housman, Stephen          20 Rose-Hulman-IN                x1:00.83  
                  28.63     1:00.83 (32.20)                                        
 11 Curts, Mike M             21 DePauw-IN                     x1:02.37  
                  28.76     1:02.37 (33.61)                                        
 
Event 26  Men 1 mtr Diving
===============================================================================
    Name                     Age School                           Finals        
===============================================================================
  1 Gould, Samuel             19 Rose-Hulman-IN                  249.60  
  2 Maurer, Joshua            19 Rose-Hulman-IN                  245.25  
 
Event 28  Men 200 Yard IM
===============================================================================
    Name                     Age School                           Finals        
===============================================================================
  1 Alfonso, Alex I           19 DePauw-IN                      1:57.98  
                  24.84       54.65 (29.81)     1:30.01 (35.36)     1:57.98 (27.97)
  2 Grissom, Alex A           19 DePauw-IN                      2:02.24  
                  26.36       57.74 (31.38)     1:34.70 (36.96)     2:02.24 (27.54)
  3 Enrico, Tai J             18 Rose-Hulman-IN                 2:03.67  
                  26.78       57.53 (30.75)     1:34.16 (36.63)     2:03.67 (29.51)
  4 McMurtry, Stephen T       19 DePauw-IN                      2:03.74  
                  26.04       57.11 (31.07)     1:34.80 (37.69)     2:03.74 (28.94)
  5 Stern, Brady A            18 Rose-Hulman-IN                 2:05.15  
                  26.87       59.68 (32.81)     1:36.38 (36.70)     2:05.15 (28.77)
  6 Gleason, Matt P           21 DePauw-IN                     x2:06.15  
                  25.93       59.44 (33.51)     1:35.13 (35.69)     2:06.15 (31.02)
  7 Ryan, Logan F             21 Rose-Hulman-IN                 2:07.11  
                  26.96     1:00.68 (33.72)     1:36.59 (35.91)     2:07.11 (30.52)
  8 Innocent-Dolor, Jon-L     19 Rose-Hulman-IN                x2:14.01  
                  27.50     1:02.63 (35.13)     1:40.67 (38.04)     2:14.01 (33.34)
 
Event 30  Men 200 Yard Freestyle Relay
===============================================================================
    School                                                        Finals        
===============================================================================
  1 Rose-Hulman Institute of Techn-IN  'A'                      1:26.17  
     1) Martin, Orion P 17              2) Podgorski, Andrew H 21         
     3) Hintz, Paul C 18                4) Huster, John Craig C 22        
                  21.88       43.24 (21.36)     1:05.04 (21.80)     1:26.17 (21.13)
  2 DePauw University-IN  'A'                                   1:27.33  
     1) Lehmann, Blake R 19             2) Hessburg, Joe D 20             
     3) Johnson, Cam M 20               4) Mullins, Nathan 20             
                  21.27       43.03 (21.76)     1:04.80 (21.77)     1:27.33 (22.53)
  3 DePauw University-IN  'B'                                   1:28.24  
     1) Hooker, Casey A 20              2) McGuinness, Danny P 18         
     3) Kukurugya, Matt A 21            4) Burgeson, Jack 19              
                  21.75       43.99 (22.24)     1:06.90 (22.91)     1:28.24 (21.34)
  4 Rose-Hulman Institute of Techn-IN  'B'                      1:30.18  
     1) Yuhas, Eric M 18                2) Wuest, Steve J 21              
     3) Larson, Robert A 20             4) Meininger, Ross 21             
                  22.49       44.88 (22.39)     1:07.71 (22.83)     1:30.18 (22.47)
  5 DePauw University-IN  'C'                                  x1:32.62  
     1) Bantista, Jordan C 20           2) Macmillan, Duncan T 19         
     3) Morrison, George G 21           4) Haeske, Matt R 21              
                  23.66       47.01 (23.35)     1:09.38 (22.37)     1:32.62 (23.24)
 
Back