Board of Trustees Accepts $7 Million in New Gifts, Approves Construction of Phase One Improvements to Athletics Facilities
February 4, 2013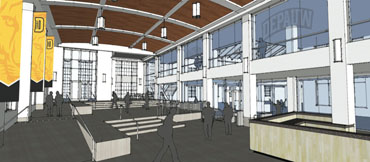 President Brian W. Casey announced today that the University's Board of Trustees has approved plans to break ground on Phase One of the University's Athletics and Recreation Facilities Master Plan. The Board also accepted two anonymous gifts totaling $7 million, which will support Phase One construction efforts, including the installation of synthetic turf on the football field at Blackstock Stadium. With these gifts, more than $22 million for Phase One improvements have been committed, with fundraising efforts continuing. (top right: rendering of new lobby of Lilly Center; below left: an exterior view of the renovated Lilly Center)
The comprehensive Athletics and Recreation Facilities Master Plan, endorsed by the Board at its October meeting, provides a roadmap for investments in athletics and recreation facilities. Phase One of the plan will result in more than $25 million in facility enhancements, including an initial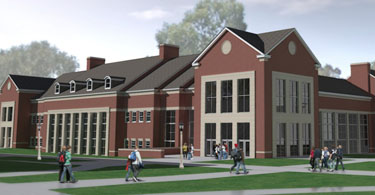 36,000 square-foot expansion and renovation of the Lilly Center, along with significant improvements to competition venues in the University's Athletics Campus.
"These investments demonstrate the unmistakable commitment this Board has made to the student experience at DePauw," said Casey. "I am grateful for their leadership and energized by their generosity."
Improvements to the Lilly Center will begin as early as April and will include the construction of the M. Scott and Kimberlee A. Welch Fitness Center, a 16,000 square-foot facility that will serve varsity athletics teams, while also providing the primary recreational fitness facility for the students, faculty and staff. Renovations will also create multipurpose spaces for group fitness classes, provide renovated office and
meeting spaces, and enhance existing recreational locker rooms.
Athletics campus improvements will also begin this spring and include the construction the multi-sport stadium. Made possible by a gift from Marshall W. and Amy Reavis, the new stadium will provide the primary competition venue for soccer, lacrosse and field hockey. Funds from an anonymous donor will also fund the installation of a synthetic field turf surface at Blackstock Stadium.
"Our goals are two-fold," said Stevie Baker-Watson, Theodore Katula Director of Athletics and Recreational Sports. "We want to provide championship quality venues for our student-athletes and fans, and we want to ensure that our entire campus community has access to exceptional fitness and training facilities. Thanks to the generosity of our donors and the leadership of our Board, we will make both of these goals a reality."
With construction efforts beginning this spring, enhancements to the new field at Blackstock Stadium are expected to be completed in time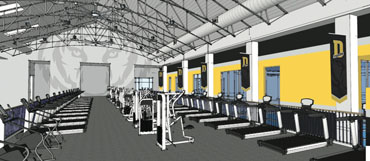 for the 2013 season. The target completion date for the multi-sport stadium is spring 2014, while the expansion and renovation of the Lilly Center is slated to be complete by August of 2014. (at left: rendering of a new fitness deck planned for the Lilly Center)
For a complete overview of projects included in Phase One of the Athletics and Recreation Facilities Master Plan, please consult the Phase One fact sheet.
Back