Tigers Go Pink, Down Oberlin, 71-46
February 9, 2013
Box Score | Coach Huffman Postgame Interview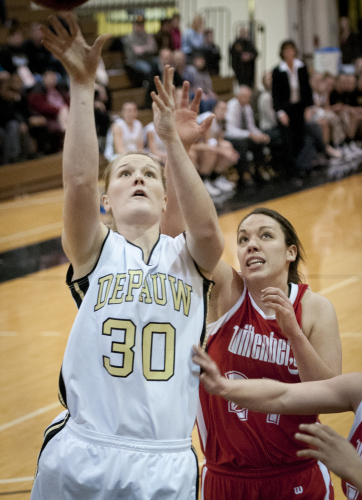 Greencastle, Ind. - The top-ranked DePauw women's basketball team donned its pink uniforms in recognition of breast cancer awareness and welcomed North Coast Athletic Conference foe Oberlin into Neal Fieldhouse on Saturday afternoon, defeating the Yeowomen 71-46, in front of one of the largest crowds of the season.
The Tigers were once again balanced along the offensive front, having eleven players register a point and 13 players hauling in at least one rebound.
With the victory DePauw moves to 23-0 on the season and 14-0 in NCAC play. The Yeowomen see their record fall to 8-16 overall and a conference record of 3-12. This is the fourth-straight season in which the Old Gold have notched at least 23 victories and ninth time in the last 10 campaigns.
The Tigers trailed just once, at 3-2, and only held a 19-14 edge midway through the first half. DePauw went on a 20-4 run to stretch the lead to 21 on the way to a 41-24 halftime advantage.
Oberlin was within 15 early in the second half, but the Tigers again put together a solid stretch by scoring the next 13 points.
Alex Gasaway (pictured) once again led the Tigers on the offensive end, scoring a game-high 16 points. Savannah Trees rounded out the double-figure scorers for DePauw, netting 13 points to go along with three steals and two assists.
Christina Marquette, the NCAC's second-leading scorer at 18.9 points per game, was held almost four points below her season average, netting a team-best 15 points on 6-17 shooting. Lillia Jahan followed with 10.
Ellie Pearson led the way on the glass for DePauw, collecting 11 rebounds in the contest for her fifth double-digit effort this year and 25th in her career.
DePauw finished the game shooting 41.9 percent (26-62) after a scintillating 51.5 percent (17-33) shooting performance in the first half. Oberlin shot 33.3 percent (16-48) from the field and 34.8 percent (8-23) from behind the arc.
Despite having its worst three-point shooting performance of the season (3-15), the Tigers dominated the game in every aspect. The Tigers forced the Yeowomen into 19 turnovers to go with 13 steals, committed just nine themselves and outrebounded Oberlin 40-27 including 16 on the offensive end.
The victory marked the Tigers 48th consecutive regular season victory, its 78th straight home conference win and 38th straight conference triumph.
Indianapolis NBC affiliate WTHR was on hand to cover today's game. Highlights and interviews from the station's 6 p.m. newscast are embedded below.
DePauw returns to action this Wednesday, February 13, at 6 p.m. when it travels to Springfield, Ohio, to face Wittenberg.
For more information on the DePauw women's basketball program, follow DePauw on Twitter (@DePauwAthletics / @DePauw_WBB) or like them on Facebook (www.facebook.com/DePauwAthletics).
Back