Success & "Stupefying" Record of Coach Brad Stevens '99 Spotlighted in Washington Post
February 9, 2013
"If you go to two national title games in three years and become one of the college basketball programs in the country, you become a target, a signature game on someone's schedule," writes John Feinstein in a Washington Post story on the success of Butler University and its head coach, Brad Stevens. "Three years after coming within inches of what would have been the most memorable national title game upset since Texas Western beat Kentucky in 1966, Stevens, now all of 36, still looks very much like what he was not so long ago -- a junior executive headed up the corporate ladder at Eli Lilly, one of the world's largest pharmaceutical companies. Except for the fact that he's wearing a sweatsuit instead of a three-piece suit."
Feinstein notes, "Stevens had been a very good Division III guard at DePauw University in Indiana and had actually tried his hand at coaching while working at Lilly the summer between his junior and senior years -- working with third- and fourth-graders. The following summer, the people running the program promoted him to coach the high school juniors. 'I really did like it," he said. "I didn't know if I was any good at it but I knew I liked it.' Still, the job at Lilly was there, and Stevens started in August 1999. Nine months later, he quit. The coaching bug had taken hold."
Stevens,a 1999 DePauw graduate, was named Butler's head coach on April 5, 2007.As Feinstein states, "His record is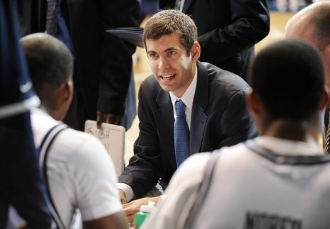 a stupefying: 159-44. For all the success and all the talk about where he will land when he leaves Butler -- when, in fact, there is no evidence that he will leave anytime soon -- Stevens remains low-key and self-deprecating."
You'll find the full story at the Post's website.
An economics major and Management Fellow at DePauw, where he played basketball for coach Bill Fenlon, Stevens earned all conference and academic all conference honors all four years.
On April 13, 2010, Stevens returned to his alma mater to deliver the Robert C. McDermond Lecture.
Back