Tuesday Concert Allows Audience to Vote on Best Composition
February 8, 2013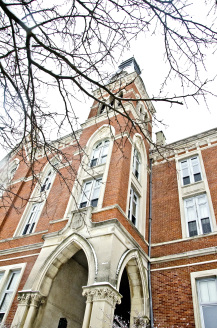 The year was 1919: J.D. Salinger was born, Theodore Roosevelt died, Woodrow Wilson won the Nobel Peace Prize, women had just won the right to vote, and American arts patron Elizabeth Sprague Coolidge opted to spend a recent inheritance on sponsoring an international composition competition. Work poured in from 72 composers around the world, and the judges were shocked to learn that the composer whom they had selected for first place in the anonymous Berkshire Festival Chamber Music competition was a woman.
The winning submission was thought to be so good that it was even assumed that it was not possible for anyone other than a man to have written it. It was rumored that the work had been falsely submitted to the competition under a pseudonym. Some judges mistakenly identified that composer as Ravel, while the Daily Telegraph supposed it to be a pseudonym for Ernest Bloch. And the actual winner was, unfortunately, never awarded the first place prize.
On Tuesday night, Greencastle has an enticing opportunity to hear and judge for itself some of the works submitted to the 1919 Berkshire competition, including the original prize winning piece -- along with compositions from other finalists to whom the prize was ultimately lost. At the end of the performance, the audience gets to vote on which piece it likes best.
The purpose for cloaking the concert in mystery is to see how a modern audience would judge and receive these works today. If the composers' names -- and any preconceptions associated with them -- were taken away, what would people choose as the best piece?
Catch this intriguing performance by three DePauw School of Music faculty members -- violist Nicole Brockmann (seen in photo teaching a student), pianists Darcy McCoy and Tony Weinstein -- at 7:30 pm. on Tuesday, February 12 in Thompson Recital Hall.
General admission tickets for faculty recitals at the Judson and Joyce Green Center for the Performing Arts are $3; tickets for all students and seniors over 65 are free. For additional information or assistance, stop by the GCPA box office located on the ground floor of the Green Center at 605 South College Avenue or call (765) 658-4827.
Back