DePauw Men in Third at NCAC Championships; Four "B" Cuts Achieved
February 14, 2013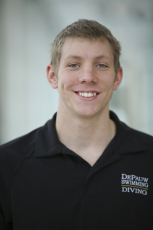 Canton, Ohio - The 11th-ranked DePauw men totaled 299 points and are in third after the first full day of competition at the North Coast Athletic Conference Swimming and Diving Championships. Kenyon leads with 498 points and Denison is second with 494.

DePauw's 200-yard freestyle relay of Jack Burgeson, Alex Alfonso, Joe Hessburg and Blake Lehmann placed third in an NCAA "B" time of 1:22.49.
Casey Hooker (pictured) turned in a third-place finish in the 500 free in a "B" and school-record time of 4:30.29. Alex Grissom was fifth in a "B" time of 4:36.52, while Robby Spichiger placed eighth in 4:45.13.
Matt Gleason finished 16th in the 200 individual medley in 1:58.63 with Lehmann turning in a fifth-place showing in the 50 free in 20.96. Burgeson was ninth in the 50 free in 21.17, with Danny McGuinness in 12th in 21.31 and Joe Hessburg in 15th in 21.53.
The Tigers' 400 medley relay of Alfonso, Luke Hessburg, Gleason and Lehmann was third in a "B" time of 3:22.99.
Competition continues Friday morning at the C.T. Branin Natatorium.
For more information on the DePauw men's swimming and diving program, follow DePauw on Twitter (@DePauwAthletics / @DPUMensSwimming) or like them on Facebook (www.facebook.com/DePauwAthletics).
Back