Prof. Valarie Ziegler Examines 'St. Valentine's Eden'
February 14, 2013
"Ever since the story of Adam, Eve and their Garden was crafted, readers have returned to the first couple time and again to figure out how all couples should act," write Valarie H. Ziegler, professor of religious studies at DePauw University (pictured at right), and Linda S. Schearing, professor in the department of religious studies at Gonzaga University. "On Valentine's Day, interpretations of their story serve both as cautionary tales and as inspiration for couples in the 21st century."
In a Huffington Post piece, the authors of the new book Enticed by Eden: How Western Culture Uses, Confuses, (and Sometimes Abuses) Adam and Eve offer, "Throughout Western culture, representations of Eve capitalize on her supposedly sexy, seductive wiles ... But imaging Eve, and thus all women, as temptresses denies women their full humanity, transforming them into flawed creations, not good ones. Reducing Eve's relationship with Adam to sex alone comes at a price. While sex is at the heart of physical intimacy, in this version of the Garden story genuine tenderness and mutuality between man and woman are impossible, since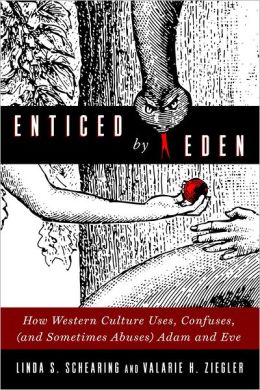 woman is duplicitous by nature. Inevitably, depicting women as temptresses threatens the trust upon which good relationships depend. At the heart of the Genesis story is the understanding that God created Eve and Adam for physical, emotional and spiritual communion. They are bone of each other's bones, flesh of each other's flesh. They are called to delight in one another and to grow into full maturity before God as stewards of the natural world. Eve and Adam, in short, stand on the brink of a great adventure, an undertaking made all the more thrilling by the love and support they can offer one another."
Read the full essay here.
Ziegler and Schearing also discussed their book on a radio program, Culture Shocks.
Learn more about Enticed by Eden in this recent summary.
Source: Huffington Post
Back