CBS Affiliate Presents Live Interview of Junior Katy Sprinkel
May 7, 1998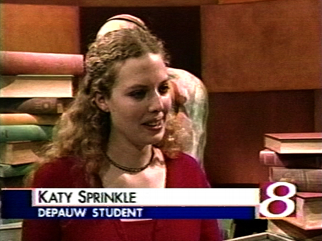 "This is a big week on Jeopardy!, and a big night for one DePauw student," WISH-TV news anchor Scott Swan announced this evening as he introduced a story on Catherine L. "Katy" Sprinkel (that is the correct spelling). A junior double major in chemistry and English literature, Sprinkel is a contestant on today's edition of the popular game show, which was recorded in advance. As a preview of the episode's airing, Sprinkel was interviewed during the CBS affiliate's 5 p.m. newscast.
"Out of 4,000 college kids who tried out, 15 were chosen. She was one of the 15," said the station's Patty Spitler, who presented a report which showed Sprinkel on the Jeopardy! set. That was followed by a live interview with the junior.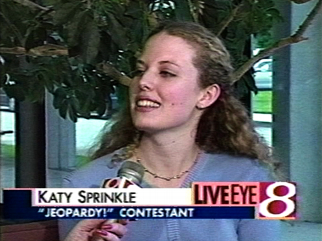 "A lot of people at DePauw tried to help me study [for the show] by shooting questions off at me like in the middle of campus," Sprinkel says. She notes that she played Trivial Pursuit and "tried to rest" for her moment in the TV spotlight.
The video is embedded below.
Also available is this previous summary.
Source: WISH (CBS)/Indianapolis
Back