Tigers Finish Second at DePauw Classic
February 16, 2013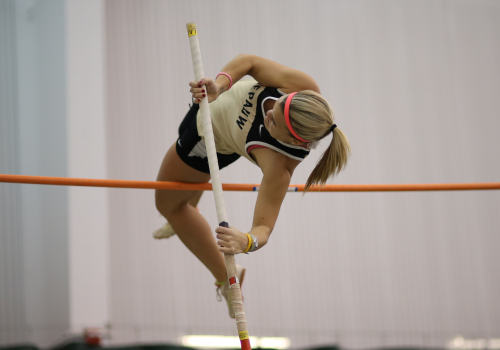 Greencastle, Ind. - Bellarmine totaled 166.5 points and finished 30 points ahead of host DePauw to win the DePauw Indoor Classic on the Hollensteiner Track at the DePauw Indoor Tennis and Track Center.
Taryn Owens (pictured left) set a DePauw record after winning the pole vault (3.13 meters/10-3.25). Jillian Balser was second in the event (3.05 meters/10-0).
Other DePauw winners included Heather O'Brien in the 5000 meters (17:57.08) and Nicole Inman in the 600 meters (1:43.60). Katie Doron was second to Inman in 1:47.70.
Katharine Kondry was third in the triple jump (10.39 meters/34-1.25), while Celia Kauth placed fourth in the high jump (1.48 meters/4-10.25.
Also turning in fourth-place performances were Maggie Royalty in the 60-meter dash (8.23), Madeline O'Brien in the 400 meters (1:05.92), Brittany Sievers in the weight throw (13.49 meters/44-3.25) and Lee Harmon in the long jump (4.57 meters/15-0).
DePauw's 4 x 200 relay won in 1:52.54, while the distance medley relay was second in 14:30.82 and the 4 x 400 relay was third in 4:22.07.
The Tigers compete at the Fred Wilt Invitational at Anderson and at the North Coast Athletic Conference Pentathlon.
Complete results are listed below.
For more information on the DePauw track and field program, follow DePauw on Twitter (@DePauwAthletics / @DePauwXCTF) or like them on Facebook (www.facebook.com/DePauwAthletics).
Licensed to DePauw University                             HY-TEK's Meet Manager
                    2013 DePauw Indoor Classic - 2/16/2013                     
                 Hollensteiner Track/DePauw U./Greencastle,IN                  
                                    Results                                    
 

                    Women - Team Rankings - 19 Events Scored
===============================================================================
    1) Bellarmine                 166.50     2) DePauw                    132.50
    3) Taylor                     115        4) Huntington                 98   
    5) Lindsey Wilson              35        6) Cumberlands                28   
    7) Emory                       24        8) Union (Ky.)                10   
    9) St. Francis (Ind.)           7       10) Brescia                     6   
   11) Maryville (Mo.)              3                                           



Event 1  Women Distance Medley
=======================================================================
       Track: T 11:41.66  3/15/2003   Wartburg, Wartburg                       
                          Holubar, Olson, Tiernan, Buttry                   
        Meet: M 12:22.27  2/24/2001   Wittenberg, Wittenberg                   
    School                                               Finals  Points
=======================================================================
Finals
  1 Huntington  'A'                                    14:08.88   10   
  2 DePauw  'A'                                        14:30.82    8   
 
Event 3  Women 4x200 Meter Relay
=======================================================================
       Track: T 1:41.51  2/11/2006   Missouri Baptist University, Missouri Bapt
        Meet: M 1:42.47  2/16/2008   Illinois Wesleyan, Illinois Wesleya       
    School                                               Finals  Points
=======================================================================
  1 DePauw  'A'                                         1:52.54   10   
  2 Huntington  'A'                                     1:54.94    8   
 
Event 5  Women 5000 Meter Run
=======================================================================
       Track: T 16:39.16  3/14/2003   Melissa White, Geneseo State             
        Meet: M 17:05.05  2/16/2008   Heather Cooksey, Southern Indiana        
    Name                    Year School                  Finals  Points
=======================================================================
  1 Heather O'Brien           FR DePauw                17:57.08   10   
  2 Gretchen Spahr            SO Huntington            18:10.46    8   
  3 Hannah Moore              FR Huntington            19:36.35    6   
  4 Christine Moon            JR Cumberlands           19:51.73    5   
  5 Cassidy Crowder           FR Taylor                19:57.16    4   
  6 Jennifer Marcum           SR Cumberlands           20:47.62    3   
  7 Christina Lee             FR Taylor                21:03.26    2   
 
Event 7  Women 60 Meter Hurdles
===================================================================
       Track: T  8.63  3/1/2009    Cassandra Lloyd, Wright State               
        Meet: M  8.22                                                          
    Name                    Year School                 Prelims  H#
===================================================================
Preliminaries
  1 Nora Bowe                 SR Bellarmine                9.18q  2 
  2 Tori Goodwin              FR Bellarmine                9.57q  2 
  3 Madison Roark             JR Bellarmine                9.70q  2 
  4 Taryn Owens               SR DePauw                    9.76q  1 
  5 Ruth Olson-Jeffries       SR Lindsey Wils              9.77q  1 
  6 Emily Perschbacher        SR Taylor                    9.95q  1 
  7 Lee Harmon                SR DePauw                    9.97q  2 
  8 Shawnee Holbrook          FR Cumberlands              10.24q  1 
  9 Holly Lutton              JR Huntington               10.46   2 
 10 Amanda Schoenfelder       SR Bellarmine               11.18   2 
 11 Ceairra Bentley           FR St. Francis              11.22   1 
 
Event 7  Women 60 Meter Hurdles
=======================================================================
       Track: T  8.63  3/1/2009    Cassandra Lloyd, Wright State               
        Meet: M  8.22                                                          
    Name                    Year School                  Finals  Points
=======================================================================
Finals
  1 Nora Bowe                 SR Bellarmine                9.21   10   
  2 Tori Goodwin              FR Bellarmine                9.55    8   
  3 Madison Roark             JR Bellarmine                9.72    6   
  4 Ruth Olson-Jeffries       SR Lindsey Wils              9.73    5   
  5 Emily Perschbacher        SR Taylor                    9.83    4   
  6 Taryn Owens               SR DePauw                    9.87    3   
  7 Lee Harmon                SR DePauw                   10.31    2   
  8 Shawnee Holbrook          FR Cumberlands              10.39    1   
 
Event 9  Women 60 Meter Dash
===================================================================
       Track: T  7.69  3/1/2009    Kelsey Conrad, Wisconsin-Milwaukee          
        Meet: M  7.19                                                          
    Name                    Year School                 Prelims  H#
===================================================================
Preliminaries
  1 Kaysee O'Bannon           FR Bellarmine                7.90q  3 
  2 Henrietta Carey           SR Taylor                    8.11q  2 
  3 Olivia Wrocklage          SO Bellarmine                8.22q  2 
  4 Maggie Royalty            FR DePauw                    8.24q  2 
  5 Courtney Thompson         FR Taylor                    8.32q  1 
  6 Danielle Lee              FR Lindsey Wils              8.34q  3 
  7 Princess Sakeuh           FR Taylor                    8.37q  3 
  8 Kehlay Dunah              SO Taylor                    8.38q  2 
  9 Brianna Gregory           FR Huntington                8.39   3 
 10 Nigelie Assee             JR DePauw                    8.63   2 
 11 Mady Temple               FR DePauw                    8.72   1 
 12 Jasmine Graham            FR DePauw                    8.74   1 
 13 Bridget Culp              SO St. Francis               8.78   1 
 14 Feiarra Foster            SR Union (Ky.)               8.79   2 
 15 Christa Hicks             SO Union (Ky.)               8.81   1 
 16 Alyssa Haselby            FR Huntington                8.83   3 
 17 Darion Caldwell           FR Huntington                9.03   1 
 
Event 9  Women 60 Meter Dash
=======================================================================
       Track: T  7.69  3/1/2009    Kelsey Conrad, Wisconsin-Milwaukee          
        Meet: M  7.19                                                          
    Name                    Year School                  Finals  Points
=======================================================================
Finals
  1 Olivia Wrocklage          SO Bellarmine                7.89   10   
  2 Kaysee O'Bannon           FR Bellarmine                8.20    8   
  3 Maggie Royalty            FR DePauw                    8.23    6   
  4 Danielle Lee              FR Lindsey Wils              8.39    5   
 
Event 11  Women 1 Mile Run
=======================================================================
       Track: T 4:50.20  3/13/2010   Marie Borner, Bethel (Minn.)              
        Meet: M 5:00.07  2/22/2003   Heather Cooksey, Southern Indiana         
    Name                    Year School                  Finals  Points
=======================================================================
  1 Calleson Edwards          SR Emory                  5:16.58   10   
  2 Elaine Schmeltz           SO Taylor                 5:21.22    8   
  3 Krista Wood               FR Huntington             5:32.46    6   
  4 Erin Rockey               SO Huntington             5:43.29    5   
  5 Samantha Walker           SO Brescia                5:46.63    4   
  6 Carrie Ripke              FR Taylor                 5:53.08    3   
  7 Emily Freiny              SR DePauw                 5:54.54    2   
  8 Megan Hannemann           SO DePauw                 5:56.19    1   
  9 Brittani Florian          FR Huntington             6:01.50  
 10 Ellie Crawford            FR DePauw                 6:03.99  
 11 Rachel Whitman            SO Bellarmine             6:05.35  
 12 Sydney Freeman            FR Cumberlands            6:10.17  
 13 Lexi Heald                SO St. Francis            6:26.03  
 14 Laura Leichty             SO Taylor                 6:34.22  
 15 Marina Filer              SO St. Francis            6:44.30  
 -- Lisa Becharas                DePauw Alumni         X5:14.79  
 
Event 13  Women 400 Meter Dash
==========================================================================
       Track: T 55.47  3/15/2003   Amber James, Wheaton (Mass.)                
        Meet: M 57.21  2/19/2004   Gena Rawlins, Illinois Wesleya              
    Name                    Year School                  Finals  H# Points
==========================================================================
  1 Kaitlin DeHaan            FR Taylor                 1:00.18   2  10   
  2 Nora Bowe                 SR Bellarmine             1:01.44   2   8   
  3 Shana Christian           FR Huntington             1:02.21   2   6   
  4 Madeline O'Brien          FR DePauw                 1:05.92   1   5   
  5 Sophie Rambaud            SO DePauw                 1:06.85   1   4   
  6 Kim Elser                 FR Huntington             1:10.50   2   3   
  7 Ashley Conard             JR DePauw                 1:15.00   1   2   
 
Event 15  Women 600 Meter Run
=======================================================================
       Track: T 1:35.38  2/11/2006   Denele DeVerteuil, Missouri Baptist       
        Meet: M 1:38.06  2/17/2007   Stellah Sang, Lindsey Wilson              
    Name                    Year School                  Finals  Points
=======================================================================
  1 Nicole Inman              JR DePauw                 1:43.60   10   
  2 Katie Doron               JR DePauw                 1:47.70    8   
  3 Elizabeth Ellis           FR Huntington             2:06.30    6   
 
Event 17  Women 800 Meter Run
=======================================================================
       Track: T 2:09.24  3/13/2010   Emily Schudrowitz, St. Norbert            
        Meet: M 2:14.36  2/16/2008   Mackenzie Clemens, Illinois Wesleya       
    Name                    Year School                  Finals  Points
=======================================================================
  1 Sophie Tonneau            FR Lindsey Wils           2:15.70   10   
  2 Angela Musk               SR Bellarmine             2:17.20    8   
  3 Madison Roark             JR Bellarmine             2:20.92    6   
  4 Jenna Norris              SO Taylor                 2:21.25    5   
  5 Julie Williamson          FR Emory                  2:22.72    4   
  6 Grace Carver              FR Taylor                 2:23.60    3   
  7 Sarina Oleson             FR Taylor                 2:23.65    2   
  8 Sarah Neideck             SO Taylor                 2:27.17    1   
  9 Natasha Sydnor            SR Cumberlands            2:27.52  
 10 Erin Price                JR Taylor                 2:30.81  
 11 Krista Wood               FR Huntington             2:31.17  
 12 Taylor Brandstatter       FR DePauw                 2:31.47  
 13 Samantha Walker           SO Brescia                2:32.08  
 14 Tanya Rogers              JR Taylor                 2:32.35  
 15 Audrey Springer           SR Cumberlands            2:32.35  
 16 Megan Frantz              SR Taylor                 2:32.88  
 17 Shelby Gibbons            SO Cumberlands            2:37.84  
 18 Elizabeth Dilbone         SO DePauw                 2:37.95  
 19 Kelsey Van Housen         SR Taylor                 2:40.04  
 20 Megan Hannemann           SO DePauw                 2:41.79  
 21 Sydney Freeman            FR Cumberlands            2:45.05  
 22 Cassandra King            FR Brescia                2:45.63  
 23 Sandra India-Aldana       FR DePauw                 2:48.18  
 24 Brittani Florian          FR Huntington             2:49.62  
 25 Natasha Wadhwa            FR DePauw                 2:56.65  
 26 Lexi Heald                SO St. Francis            2:57.63  
 27 Marina Filer              SO St. Francis            3:04.59  
 28 Sydney Gall               FR Huntington             3:07.36  
 29 Danielle Jasiewicz        SO Union (Ky.)            3:09.27  
 
Event 19  Women 1000 Meter Run
=======================================================================
       Track: T 2:50.92  2/9/2008    Bethany Carr, Olivet Nazarene             
        Meet: M 3:01.60  2/18/2012   Darcy Mascotti, Cumberlands               
    Name                    Year School                  Finals  Points
=======================================================================
  1 Jane Hawks                FR Taylor                 3:09.24   10   
  2 Erin Rockey               SO Huntington             3:30.21    8   
 
Event 21  Women 200 Meter Dash
==========================================================================
       Track: T 24.70  3/1/2009    Kelsey Conrad, Wisconsin-Milwaukee          
        Meet: M 25.91  2/19/2004   Tashi Johnson, Earlham                      
    Name                    Year School                  Finals  H# Points
==========================================================================
  1 Meghan Jones              JR Bellarmine               25.37M  5  10   
  2 Kaysee O'Bannon           FR Bellarmine               25.98   5   8   
  3 Henrietta Carey           SR Taylor                   26.52   5   6   
  4 Olivia Wrocklage          SO Bellarmine               26.84   5   5   
  5 Tori Goodwin              FR Bellarmine               27.46   5   4   
  6 Princess Sakeuh           FR Taylor                   27.75   4   3   
  7 Brianna Gregory           FR Huntington               28.35   4   2   
  8 Maggie Royalty            FR DePauw                   28.76   4   1   
  9 Shana Christian           FR Huntington               28.89   1 
 10 Darion Caldwell           FR Huntington               29.01   3 
 11 Charnay Ryland            FR Cumberlands              29.02   4 
 12 Bridget Culp              SO St. Francis              29.17   3 
 13 Jasmine Graham            FR DePauw                   29.34   2 
 14 Emily Perschbacher        SR Taylor                   29.47   3 
 15 Katharine Kondry          FR DePauw                   29.53   3 
 16 Alyssa Haselby            FR Huntington               30.46   4 
 17 Christa Hicks             SO Union (Ky.)              30.60   1 
 18 Heather Bucher            FR DePauw                   30.61   2 
 19 Feiarra Foster            SR Union (Ky.)              31.09   2 
 20 Ceairra Bentley           FR St. Francis              31.51   2 
 21 Nicole DeFries            FR DePauw                   32.62   2 
 
Event 23  Women 3000 Meter Run
=======================================================================
       Track: T  9:44.72  3/1/2009    Laura Rolf, Valparaiso                   
        Meet: M 10:31.97  2/19/2004   Casey Schneider, Southern Indiana        
    Name                    Year School                  Finals  Points
=======================================================================
  1 Tamara Surtees            SO Emory                 10:37.96   10   
  2 Elaine Schmeltz           SO Taylor                10:45.78    8   
  3 Allison Steinbeck         SO Taylor                10:51.58    6   
  4 Taryn Seeland             FR Taylor                11:06.77    5   
  5 Natalie Spahr             SO Huntington            11:11.05    4   
  6 Anissa Richards           FR Taylor                11:14.55    3   
  7 Olivia Warren             SO Brescia               11:17.07    2   
  8 Shelby Gibbons            SO Cumberlands           11:46.57    1   
  9 Miranda Boyts             JR Huntington            11:55.85  
 
Event 25  Women 4x400 Meter Relay
=======================================================================
       Track: T 3:45.01  3/15/2003   Wheaton (Mass.), Wheaton (Mass.)          
                         Smith, Williams-Judge, Bromell, James             
        Meet: M 3:57.77  2/16/2008   Illinois Wesleyan, Illinois Wesleya       
    School                                               Finals  Points
=======================================================================
  1 Taylor  'A'                                         4:12.80   10   
  2 Taylor  'B'                                         4:19.35  
  3 DePauw  'A'                                         4:22.07    8   
  4 Huntington  'A'                                     4:30.27    6   
  5 St. Francis (Ind.)  'A'                             5:02.14    5   
 
Event 27  Women Weight Throw
=================================================================================
       Track: T 22.62m  2/5/2011    Felisha Johnson, Indiana Stat              
        Meet: M 17.56m  2/19/2011   Toywonia Jones, Unattached                 
    Name                    Year School                  Finals            Points
=================================================================================
  1 Amanda Egan               SO Bellarmine              14.13m   46-04.25  10   
  2 Elizabeth Luke            SO Taylor                  14.10m   46-03.25   8   
  3 Katie Hartney             JR Lindsey Wils            14.07m   46-02.00   6   
  4 Brittany Sievers          SR DePauw                  13.49m   44-03.25   5   
  5 Trina Manalo              JR DePauw                  11.04m   36-02.75   4   
  6 Ashley Williams           SO Huntington              10.93m   35-10.50   3   
  7 Jordan Ostapchuk          FR St. Francis             10.20m   33-05.75   2   
  8 Naomi Grablowski          FR Taylor                   9.86m   32-04.25   1   
  9 Abbie Tigue               SO Union (Ky.)              8.46m   27-09.25 
 -- Kayse Cornett             SO Union (Ky.)                 ND            
 
Event 29  Women Long Jump
=================================================================================
       Track: T 5.87m  2/11/2006   Sherlonda Johnson, Wisconsin-Milwaukee      
        Meet: M 5.84m  2/19/2004   Pristina Jones, Unat                        
    Name                    Year School                  Finals            Points
=================================================================================
  1 Charnay Ryland            FR Cumberlands              4.86m   15-11.50  10   
  2 Amanda Schoenfelder       SR Bellarmine               4.83m   15-10.25   8   
  3 Christa Hicks             SO Union (Ky.)              4.74m   15-06.75   6   
  4 Lee Harmon                SR DePauw                   4.57m   15-00.00   5   
  5 Remsing King              SR Bellarmine               4.54m   14-10.75   4   
  6 Katharine Kondry          FR DePauw                   4.49m   14-08.75   3   
  7 Feiarra Foster            SR Union (Ky.)              4.33m   14-02.50   2   
  8 Darion Caldwell           FR Huntington               4.21m   13-09.75   1   
  9 Katelyn MacDonald         JR Taylor                   4.08m   13-04.75 
 
Event 31  Women High Jump
=================================================================================
       Track: T 1.76m  3/14/2003   Kim Deprez, Geneseo State                   
        Meet: M 1.68m  2/23/2002   Elizabeth Stoll, Washington                 
    Name                    Year School                  Finals            Points
=================================================================================
  1 Nora Bowe                 SR Bellarmine               1.66m    5-05.25  10   
  2 Meghan Jones              JR Bellarmine               1.58m    5-02.25   8   
  3 Hayden Kelley             SR Bellarmine               1.53m    5-00.25   6   
  4 Celia Kauth               SO DePauw                   1.48m    4-10.25   4.50
  4 Amanda Schoenfelder       SR Bellarmine               1.48m    4-10.25   4.50
  6 Kristin Hamrick           SR Bellarmine               1.43m    4-08.25 
  7 Danielle Lee              FR Lindsey Wils             1.38m    4-06.25   3   
 
Event 33  Women Triple Jump
=================================================================================
       Track: T 12.37m  3/15/2003   LaNeatra Johnson, Christopher Newport      
        Meet: M 11.61m  2/16/2008   Leeann White, Austin Peay                  
    Name                    Year School                  Finals            Points
=================================================================================
  1 Tori Goodwin              FR Bellarmine              10.51m   34-05.75  10   
  2 Charnay Ryland            FR Cumberlands             10.40m   34-01.50   8   
  3 Katharine Kondry          FR DePauw                  10.39m   34-01.25   6   
  4 Remsing King              SR Bellarmine               9.70m   31-10.00   5   
 
Event 35  Women Pole Vault
=================================================================================
       Track: T 4.30m  2/6/2010    Kylie Hutson, Indiana State                 
        Meet: M 3.50m  2/16/2008   Carrie Burggraf, Austin Peay                
    Name                    Year School                  Finals            Points
=================================================================================
  1 Taryn Owens               SR DePauw                   3.13m   10-03.25  10   
  2 Jillian Balser            JR DePauw                   3.05m   10-00.00   8   
  3 Heather Johnson           SO Huntington               2.90m    9-06.25   6   
  4 Lindsay Schroeder         SO Huntington               2.90m    9-06.25   5   
  5 Kaitlin DeHaan            FR Taylor                   2.75m    9-00.25   4   
  6 Katie Kennedy             SO Maryville (M             2.75m    9-00.25   3   
 -- Hanna DeLancey            SO Taylor                      NH            
 -- Darby Martin              FR Union (Ky.)                 NH            
 -- Mallory Vandersaul        JR St. Francis                 NH            
 
Event 37  Women Shot Put
=================================================================================
       Track: T 15.51m  3/15/2003   Healy Thompson, Williams                   
        Meet: M 14.68m  2/22/2003   Cari Roush, Indianapolis                   
    Name                    Year School                  Finals            Points
=================================================================================
  1 Amanda Egan               SO Bellarmine              12.16m   39-10.75  10   
  2 Ali Swart                 SR Taylor                  11.74m   38-06.25   8   
  3 Katie Hartney             JR Lindsey Wils            10.14m   33-03.25   6   
  4 Ashley Williams           SO Huntington              10.13m   33-03.00   5   
  5 Trina Manalo              JR DePauw                   9.86m   32-04.25   4   
  6 Katie Manalo              FR DePauw                   9.67m   31-08.75   3   
  7 Abbie Tigue               SO Union (Ky.)              9.41m   30-10.50   2   
  8 Elizabeth Luke            SO Taylor                   9.40m   30-10.25   1   
  9 Lauren Wigton             FR DePauw                   8.88m   29-01.75 
 10 Ellie Sheffield           FR DePauw                   8.82m   28-11.25 
 11 Kayse Cornett             SO Union (Ky.)              8.55m   28-00.75 
 12 Taryn Owens               SR DePauw                   8.29m   27-02.50 
 13 Jordan Ostapchuk          FR St. Francis              7.79m   25-06.75 
 14 Lee Harmon                SR DePauw                   7.28m   23-10.75 
 15 Nicole DeFries            FR DePauw                   6.53m   21-05.25 
 

Back