DePauw Men Finish Third at NCAC Championships; Cohen Named Coach of the Year
February 16, 2013
NCAC Site | Day 1 Recap | Day 2 Recap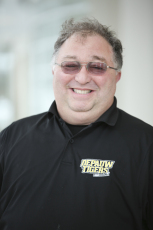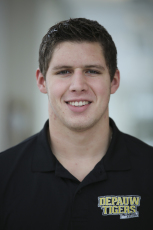 Canton, Ohio - DePauw's 11th-ranked men totaled 987 points and finished third at the North Coast Athletic Conference Swimming and Diving Championships.
DePauw head coach Adam Cohen (right) was named the NCAC Coach of the Year after leading DePauw to a second-straight third-place finish.
Luke Hessburg (left) finished third in the 200-yard breaststroke (2:04.82), while Matt Kukurugya was ninth (2:05.29). Both were NCAA "B" times. Andrew Petersen was 11th in the event in 2:08.25.
Matt Gleason was fifth in the 200 butterfly (1:53.85) which made the "B" cut and Stephen McMurtry placed ninth in 1:56.51.
Casey Hooker notched a "B" cut time in the 100 free (45.61 finals/45.58 prelims) and placed sixth with Blake Lehmann placing seventh (46.07), Danny McGuniness 12th (46.65), Alex Grissom 15th (46.81) and Jack Bergeson 16th (46.82).
George Morrison was eighth in the 200 backstroke (1:57.35), while Chris Ercoli finished 14th (2:00.74). Jordan Bantista was 11th in the 1650 free (16:57.12).
The Tigers' 400 free relay of Bergeson, Hooker, Lehmann an McGuinness concluded the meet with a third-place finish in a "B" time of 3:02.98.
For more information on the DePauw men's swimming and diving program, follow DePauw on Twitter (@DePauwAthletics / @DPUMensSwimming) or like them on Facebook (www.facebook.com/DePauwAthletics).
Back