Co-CEO Elisa Villanueva Beard '98 Calls Teach For America "A True Social Justice Movement"
February 21, 2013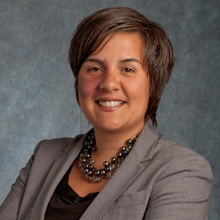 "Ultimately, what we're trying to do is ensure every kid has the access and opportunity to access a great education, that every child has a choice in life," Elisa Villanueva Beard, co-chief executive officer of Teach For America, tells the Houston Chronicle. The 1998 DePauw University graduate adds, "So, to me, that means you are academically prepared so that you can make the choices you want. If you want to go to college, if you want to go to technical school, beauty school, I don't care, but every kid should have a choice."
Villanueva Beard was a TFA corps member in Phoenix, then served as the executive director of the program's Rio Grande Valley chapter before joining the national office as chief operating officer eight years ago. She was promoted to the co-leadership role earlier this month.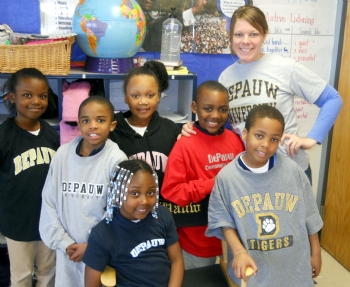 "No one can win a debate that kids from low-income communities, kids of color, cannot compete with their more affluent peers," she states. "It's non-winnable because we have hundreds of our schools in our country doing that. But in the aggregate, the statistics are still the same -- 8 percent of kids growing up in low-income communities are getting college degrees. We cannot live with ourselves telling the same story. I cannot live with myself, dedicating my entire life to this and when I get to the finish life, not being at the finish line. It just isn't OK."
She adds, "We are part of a true social justice movement in America. When you commit to do Teach For America, you are committing to a lifetime. You are committing to understanding deeply, respecting and hopefully falling in love with your children and communities, where you will own this problem in a different way and are committed to solving it for the rest of your life from wherever you sit. I think
our intentions and what we are about is building something that is going to change the world and change the country." (photo, l-r: TFA co-CEO Matt Kramer, founder Wendy Kopp, and Elisa Villanueva Beard)
During the interview, Villanueva Beard notes, "I came from a predominately Mexican-American community. I get to DePauw and I'm the first person that looks like me that a lot of my friends had ever met who was not cleaning their toilets or washing the table after they ate a meal. So processing how people viewed me and what it meant to be me in this context was a truly transformational experience. I was under-prepared. I worked really hard for B-minuses. I did not do well my first semester, but I ended up doing really well after that, which taught me that kids can do this, they just have to have the opportunity and the access. You look at the statistics and you start to learn what's going on
in various parts of our country with various groups. That's when I got turned on to Teach For America and joined the corps almost 15 years ago."
Visit the Chronicle online.
DePauw University was tied for second among all of the nation's small colleges when it comes to the number of graduates who committed to serving in Teach For America's 2012 teaching corps. Nineteen DePauw alumni have joined TFA in the fall. Only Wellesley College, with 21 participants, had a greater total among small colleges. Amherst College matched DePauw's total of 19 new corps members.
Back