Kenyon earns first trip to NCAC final since 2006
February 22, 2013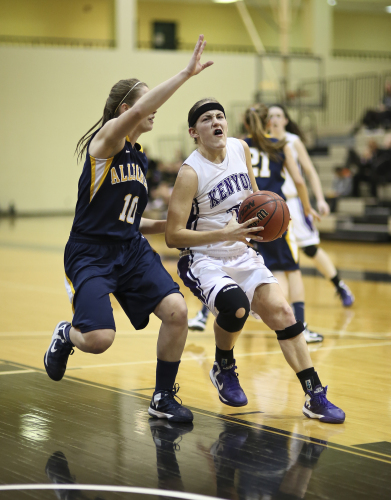 Greencastle, Ind. - Buttressed by a 16-0 run in the first half, Kenyon College (20-7) advanced to the North Coast Athletic Conference Tournament championship game after downing Allegheny College (15-12) at DePauw University's Neal Fieldhouse, 80-50.
The finals appearance for the Ladies is the program's first since the 2005-2006 season.
Kayla Ernst, the NCAC's leading scorer, averaging 19.8 points per game entering the contest, put up the first points of the night with a jumper from the free throw line. After an Allegheny bucket, Ernst was at it again for a reverse layup.
Maggie Boelter gave the Ladies the lead, 7-4, after three minutes with a three-pointer from the right wing, and Kenyon never surrendered the lead afterward.
Allegheny pulled within one, 13-12, with 12:10 remaining in the first, and then Kenyon went on a 16-0 scoring run that spanned more than six minutes.
Maureen Hirt led the Ladies' scoring tear with 12 points during the stretch that included nailing three shots from beyond the arc.
Allegheny ended their scoring drought with Jessica Mrdjenovich hitting a free throw. However, at that time, the Gators were in a 29-13 hole.
At halftime, Kenyon led 45-19 backed by 18 points from Hirt on 6-9 shooting, 3-4 from beyond the arc and Ernst pitched in 15 points, hitting all six of her attempts from the floor.
The Ladies shot 73.9 percent from the field in the first compared to 29.2 from Allegheny.
In the second half, the Gators came out scoring on three straight possessions and went on a 14-7 run in the first five minutes, pulling them within 19 at 52-33. That's as close as Allegheny would get, however, as Kenyon went on an 11-2 run to all but end the game.
The Ladies ended shooting 63.3 percent from the field to the Gators' 35.2. Kenyon also held the edge in rebounds, 30-29.
Hirt led all scorers with 24 points, Ernst tallied 19, Boelter pitched in 15 and Katie Adlam had 12.
Kenyon advances to Saturday's 7 p.m. title game to face the winner of tonight's second semifinal game between fifth-seed Wittenberg and top-seed DePauw.
Back