Top-ranked DePauw Wins NCAC Tournament; Headed to 10th Straight NCAA Postseason
February 23, 2013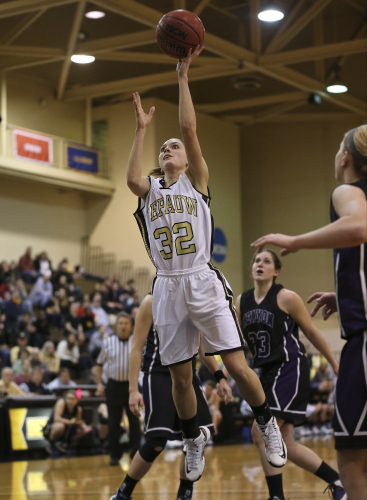 Greencastle, Ind. - Top-ranked DePauw wrapped up a perfect regular season and earned a trip to its 10th straight NCAA Division III Championship with a 63-49 win over Kenyon (20-8) in the North Coast Athletic Conference Tournament championship game.
The Tigers head to the NCAA postseason with a 28-0 record after winning a second straight NCAC tournament title and running their regular season win streak to 53 and tying the longest overall win streak in school history at 28.
DePauw will learn its draw in the 64-team NCAA field during a 2:30 p.m. selection show on Monday, February 25, at NCAA.com.
DePauw got out to a quick start as it turned around a 4-3 deficit to a 17-4 lead with a 14-0 run in a stretch of just 3:25. Ali Ross (pictured above) scored seven of her 14 first-half points during the span.
The Tigers' lead reached as many as 21 after Kate Walker buried a three with 1:31 left in the half and DePauw took a 34-16 lead into the break.
Kenyon whittled away at that lead in the opening minutes of the second half as it scored six straight, but the Tigers were able to push the margin back to 20 at 42-22.
The Ladies came back again and got to within nine at 54-45 after Kayla Ernst's three-point play with 3:30 left. DePauw's Alison Stephens, however, came right back with a layup. Ellie Pearson's free throw at the 2:46 mark made it a 12-point game and, following a Kenyon turnover, Walker's two free throws pushed it to 14.
Walker (pictured with DePauw Director of Athletics Stevie Baker-Watson) was named the winner of the Nan Nichols Award as the tournament's most valuable player after scoring 13 and dishing out four assists with no turnovers. Ross earned a spot on the all-tournament team and led the Tigers with 16 points. Pearson snagged 15 rebounds and Stephens, a career-high 13 as DePauw held a 45-24 edge on the boards.
Ernst led Kenyon with 15 points followed by Maggie Boelter with 11 and Maureen Hirt with 10. Ernst and Hirt each had five boards and were named to the all-tournament team. Katie Adlam paced Kenyon with five assists.
Also named to the all-tournament team were Daryl Ford of Allegheny and Enri Small of Wittenberg.
For more information on the DePauw women's basketball program, follow DePauw on Twitter (@DePauwAthletics / @DePauw_WBB) or like them on Facebook (www.facebook.com/DePauwAthletics).
Back