Top-ranked DePauw Hosts La Roche in NCAA First Round
February 27, 2013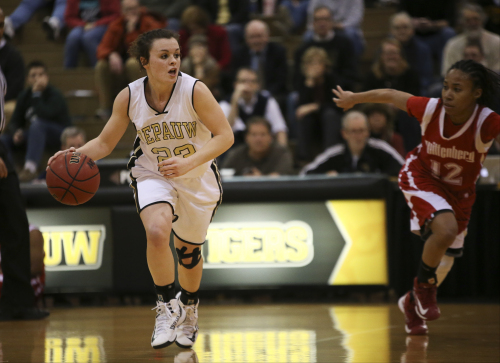 Greencastle, Ind. - The 28-0 and top-ranked DePauw women's basketball team opens NCAA Division III Championship play on Friday, March 1, when it hosts La Roche College (24-2) in a first-round game at the Neal Fieldhouse. Tipoff is scheduled for 7 p.m.
The other first-round game features Otterbein (21-6) against Maryville, Tenn. (23-4) at 5 p.m. Complete information is available through DePauw's host site.
Friday's tickets are $8 for adults and $4 for senior citizens, students and children and will go on sale at 3:30 p.m.on Friday. Tickets for Saturday's second round are the same price and are available beginning at 5:30 p.m. on Saturday. For both days, all sales will be cash only. Additionally, the University will pay for DePauw students to attend the games if they show their student ID.
DePauw is making its 14th appearance in the Division III postseason and its 10th straight and has posted a 20-12 record in tournament play including an 11-3 mark at home. The Tigers defeated Westminster, 66-46, in last year's opening round before suffering a 53-48 defeat to eventual national quarterfinalist Carthage. The Tigers won the 2007 title, finished third in 2002 and were quarterfinalists in 2006 and 2008.
La Roche is appearing in its third NCAA tournament in as many years and earned automatic qualification after winning the Allegheny Mountain Collegiate Conference. The Redhawks dropped a 73-63 decision to Mount Union in last year's opening round.
For more information on the DePauw women's basketball program, follow DePauw on Twitter (@DePauwAthletics / @DePauw_WBB) or like them on Facebook (www.facebook.com/DePauwAthletics).
Back