Category-Shattering Trio, Time for Three, Performs Monday
March 6, 2013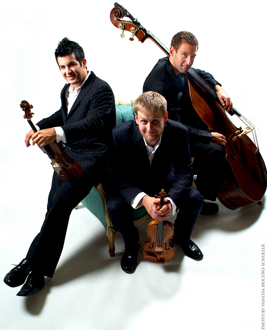 Time for Three, described as the world's first classically-trained "garage band," brings its music to DePauw University's Green Center for the Performing Arts next Monday, March 11. The trio -- featuring the Indianapolis Symphony Orchestra's concertmaster Zach De Pue, violinist Nicolas Kendall, and bassist Ranaan Meyer -- will perform as part of the DePauw School of Music Guest Artist Series at 7:30 p.m. in Kresge Auditorium.
Time for Three defies traditional classification, performing music from Bach to Brahms to their own arrangements of The Beatles, Kanye West and Justin Timberlake. The group has performed everywhere from Carnegie Hall to jazz clubs, European festivals to NFL games and the Indy 500.
What started as a trio of musicians who played together for fun while students at Philadelphia's Curtis Institute for Music evolved into Time for Three, or Tf3 for short -- a charismatic ensemble with a reputation for limitless enthusiasm and no musical boundaries. If they like it, they play it: "We're trying to reach out to an audience broader than the traditional classical music audience. We actively include jazz, bluegrass, pop, and other genres in our concerts."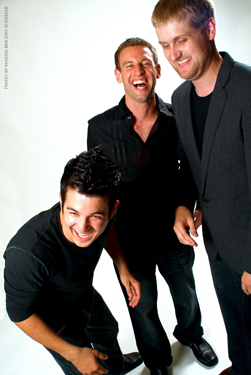 De Pue and Kendall first discovered their mutual love of fiddling in the country/western and bluegrass styles. Then bassist Ranaan Meyer introduced them to his deep roots in jazz and improvisation. After considerable experimentation, the three officially formed Tf3.
The ensemble gained attention in July 2003, during a lightning-induced power failure in Philadelphia's Mann Center for the Performing Arts. While technicians attempted to restore onstage lighting, Meyer and De Pue, who were both performing as members of the Philadelphia Orchestra, obliged with an impromptu all-acoustic jam session in the dark.
The story of Time for Three is the story of so many kids who are faced every day with challenges to who they are and who they want to be. Over time, all three musicians realized they had similar stories: they were the kid in school who didn't fit in and was sometimes bullied or left out. This realization prompted the trio to produce a YouTube anti-bullying video Stronger, which has since been featured on CNN and the Huffington Post and has inspired students around the globe with a strong message for young people: Be strong, achieve your dreams, fight against whatever strong force is against you and never give up.
For Monday's concert in the Green Center, the trio will select from a playlist of over 30 pieces, which includes works as diverse as J.S. Bach's Chaconne in Winter, The Beatles' Blackbird, Johannes Brahms' Hungarian Dance No.5, to Charlie Rouse's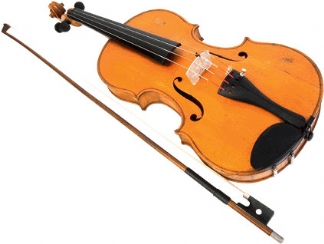 bluegrass Orange Blossom Special, Katy Perry's Firework and Kanye West's Stronger -- Tf3's arrangement of which became the soundtrack for the trio's popular YouTube video.
Tickets for Monday concert are $10 in advance and $12 the day of the performance. Anyone wanting to attend a Guest Artist Series event who cannot afford to pay full ticket price can also take advantage of the pay-what-you-can option. Admission to DePauw School of Music events is free to all students, seniors and children, as long as tickets are available. Tickets may be purchased in person at the GCPA Box Office, located at 605 S. College Avenue in Greencastle, or online at www.depauw.edu/music/tickets.
Back