Prof. Dan Gurnon & Jacob Stanley '05 Co-Author Journal Article on Science-Art Project
March 5, 2013
An article recapping a DePauw University project that merged science and art has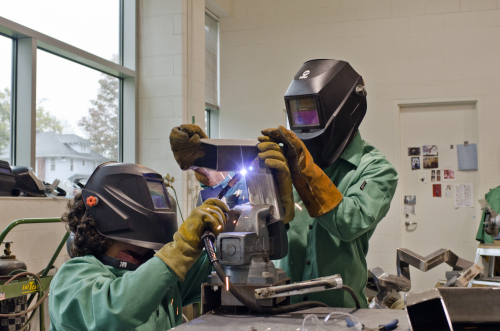 been published in the journal PLOS (Public Library of Science) Biology. "Integrating Art and Science in Undergraduate Education" was authored by Daniel Gurnon, associate professor of chemistry and biochemistry at DePauw, Jacob K. Stanley, a 2005 DePauw graduate who served as a part-time assistant professor of art, and German sculptor Julian Voss-Andreae.
"The prevailing vision for undergraduate science education includes increased collaboration among teachers of science, technology, engineering and math (STEM) and an overhaul of introductory courses," write the authors. "But by staying within the borders of STEM, are we overlooking connections between the arts and innovative science? Likewise, are we missing an important opportunity to inspire and inform nonscientists? Here we explore how weaving the visual arts into a science curriculum can both help develop scientific imagination and engage nonscientists. As an
example, we describe a recent collaboration between artists and scientists to create a series of science-inspired sculptures."
Read the piece here.
Last year, a video featuring Professors Gurnon and Stanley won a Mid-America Emmy Award in the "Informational/Instructional Feature" category.
Another video of Gurnon and Stanley working with their students was featured during the 2011 national telecast of the Monon Bell Classic. It is available for viewing below.
Back