Jane Stacy '34 Honored on Her 100th Birthday
March 6, 2013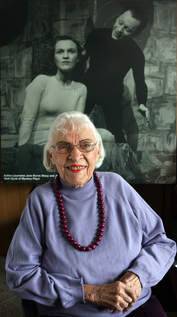 "Some just can't resist the glamour of the stage," begins a story in the Doings of Western Springs, Illinois. "But it wasn't the spotlight that attracted a young Jane Stacy to the theater. 'I was interested in Fred Burns, and Fred Burns was interested in theater,' said Stacy, who was introduced to both while a student at DePauw University. It was the start of two relationships that would last for decades." (photo, by Buzz Orr, shows Stacy in front of a photo of herself from a 1952 play)
The piece, written by Sandy Illian Bosch, continues, "Stacy, of Western Springs, went on to marry Burns and to play many roles, both on and behind the stage, at Theatre of Western Springs. Friends, family and fellow theater members gathered to pay tribute to Stacy, who turned 100 years old March 4."
A 1934 graduate of DePauw, where she was an English major, Jane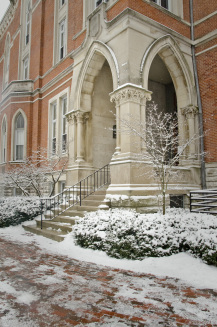 (Payne) Stacy continues to work on costumes for the theatre company. "Her portrait hangs in the mainstage lobby, above a plaque that reads 'We bring to the communities we love the theatre we love.' Stacy was honored in October with a village proclamation naming renaming the street just west of the theater Jane Burns Stacy Way, in honor of her 100th birthday and her 68 years of service to the theater."
"Jane is a living legacy," Bill Hammack, the company's managing director, tells the newspaper.
The full text is available at the Doings' website (a subscription may be required).
Back