DePauw to Host Indiana United Methodist Historical Society's Annual Meeting
March 15, 2013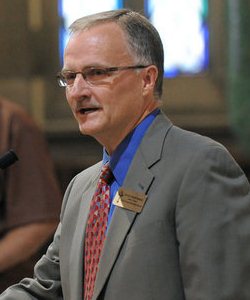 Kevin Armstrong, president of Methodist Health Foundation and 1982 graduate of DePauw University, will be the keynote speaker at the 18th annual meeting of the Indiana United Methodist Historical Society. DePauw will host the event, which will take place on April 27.
The day's events will also include tours of the Archives of Indiana Methodism, located within DePauw's Roy O. West Library, and discussions of campus life, knowledge and religion.
Reverend Armstrong was DePauw's student body president as an undergraduate and went on to earn a degree from Duke Divinity School. He served as associate chaplain at DePauw before spending a quarter-century serving two United Methodist congregations in urban Indianapolis. In March 2012, he was named president of Methodist Health Foundation, the organization of philanthropic support for Indiana University Health Methodist Hospital in Indianapolis.
Armstrong has also served as a public teacher with the Religion and Urban Culture Project at The Polis Center at Indiana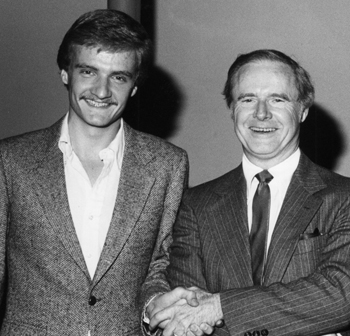 University-Purdue University Indianapolis; has written and taught for religious, civic and government audiences; and directed an 11-part PBS series, Faith & Community: The Public Role of Religion. (at left: 1982 photo of Kevin Armstrong and DePauw President Richard F. Rosser)
Registration ($25 for IUMHS members and $27.50 for non-members) is required by April 16. For information on the meeting, call (765) 759-9321.
Founded in 1837 by the Methodist church, DePauw University is a private, selective, coeducational, residential, undergraduate College of Liberal Arts and School of Music. The college is in the midst of a celebration marking the 175th anniversary of its founding.
Back