Number-One DePauw Knocks out Bears and Headed to Division III Quarterfinals
March 8, 2013
Tournament Site | Christopher Newport-Montclair St. Box | DePauw-Washington box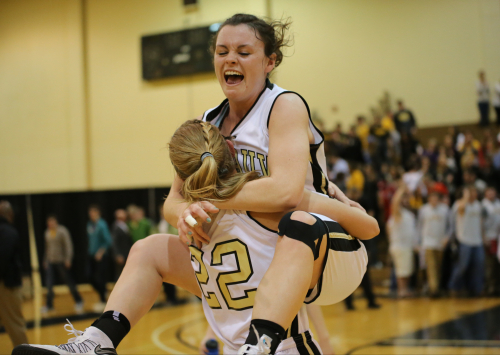 Greencastle, Ind. - Number-one DePauw held 21st-ranked Washington-St. Louis to its season-low point total and the Tigers advanced to the NCAA Division III Sectional Final following a 59-42 win over the Bears in front of a large and loud crowd at the Neal Fieldhouse.
DePauw, the only undefeated team remaining in Division III, improved to 31-0 and matched the school record for wins in a season while improving to 17-0 at home. The Bears finished the season at 22-6.
The Tigers face Christopher Newport (29-2) in Saturday's 7 p.m. contest with the winner advancing to the national semifinals at Hope College. The Captains handed Montclair State (29-1) an 83-70 loss in the evening's first game.
Washington turned the ball over on its opening possession and the Tigers' Savannah Trees delivered a three-pointer on what's become a Tigers trademark - third-chance bucket. Ali Ross' layup three minutes later made it 5-0.
The Tigers led by as many as eight on several occasions and went to the break with a 28-20 lead after Kathleen Molloy nailed a trey with just over one minute left.
It didn't take long for the hosts to get it rolling in the second half as Ali Ross knocked in a three just 11 seconds into the second half. After Melissa Gilkey cut the lead back to single digits, Trees hit a three and Kate Walker added a layup that started a 7-0 run and gave the Tigers a 38-22 advantage.
The lead was still 41-28 after Kristin Anda's layup, but Gasaway followed with a jumper and Molloy added a three to jump start a 13-2 stretch that ended on Gasaway's three and a Alison Stephens' layin off a nifty bounce pass from Gasaway to make it 54-31 with just 5:58 remaining.
"I'm really proud of this team and this game," DePauw head coach Kris Huffman said.
"They come to work every day and play every possession to win."
Walker paced DePauw with 13 points, while Gasaway added 10. Stephens hauled down nine rebounds and Ellie Pearson dished out a season-high five assists.
Gilkey paced the Bears with 14 points with Jordan Rettig chipping in 13 points and eight rebounds.
The Tigers shot 39.7 percent from the floor, but hit 10-of-24 three-pointers.
The victory marked the Tigers' fifth straight win in a round of 16 contest and lifted DePauw's home record in NCAA tournament play to 14-3.
For more information on the DePauw women's basketball program, follow DePauw on Twitter (@DePauwAthletics / @DePauw_WBB) or like them on Facebook (www.facebook.com/DePauwAthletics).
Back