Devin Koch '88 is VP of International Markets for ATDynamics
March 14, 2013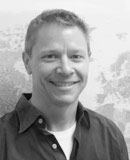 Devin E. Koch, a 1988 graduate of DePauw University, has been appointed vice president of international markets for ATDynamics. Koch is based in Zurich, Switzerland, for the company, the leading global supplier of semi-trailer rear-drag aerodynamics technology.
According to an announcement, Koch "will be responsible for driving business development in the European Union and other international markets, identifying new opportunities to build and drive ATDynamics' top-line growth. He will lead ATDynamics' international corporate strategy, sales and marketing. Devin is an experienced operating executive and serial entrepreneur with 20 years of experience focused on developing international technology companies."
A computer science major as an undergraduate, Koch's resume includes leadership positions at telecommunications companies including Prophonos and Exwire, Inc.
He is also a managing director at Maroons Partners, a venture fund that makes investments in early stage private companies.
"Devin will play a significant role in the evolution of our international market growth," says Andrew Smith, CEO and founder of ATDynamics, Inc. "Devin's strategy and leadership skills will help us move even more quickly to seize international market opportunities. His experience will serve our stakeholders well as he assumes this important leadership position at ATDynamics."
Read more here.
Back