DePauw's Quest for Second National Title Continues Friday Night
March 14, 2013
DePauw Game Notes | Live Video | WGRE Audio | Live Stats | Host Web site | NCAA.com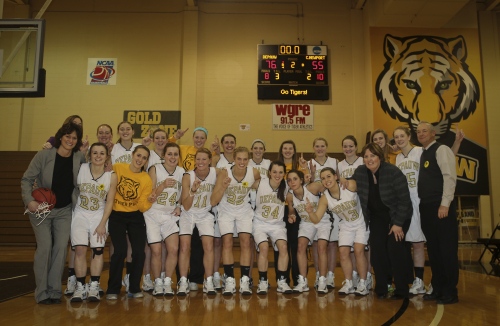 Greencastle, Ind. - The top-ranked and 32-0 DePauw women's basketball team returns to the hardwood on Friday, March 15, against Williams College in an NCAA Division III Championship semifinal contest and the Tigers need just two more wins to capture their second national title.
Tipoff from the 3,400-seat DeVos Fieldhouse on the Hope College campus in Holland, Mich., is set for 7:30 p.m. The Ephs are 26-5 and ranked 15th in the final D3hoops.com regular season poll. The evening's first semifinal contest, at 5:30 p.m., pits sixth-ranked Amherst (30-1) against 22nd-ranked Wisconsin-Whitewater (25-6).
DePauw is coming off last Saturday's 76-55 NCAA Sectional Final win over 17th-ranked Christopher Newport. The Ephs earned a spot in the semifinals following a 63-53 victory over Whitman last Saturday.
The Tigers earned automatic qualification into the 64-team field after winning the North Coast Athletic Conference Tournament with a 64-49 win over Kenyon on February 23. The Tigers are making their 10th straight appearance and 14th overall. DePauw won the national title in 2007, finished third in 2002 and were quarterfinalists in 2006 and 2008. The Tigers are 24-12 in NCAA postseason play.
Playing all four NCAA games at the Neal Fieldhouse, DePauw opened with a 73-43 victory over La Roche and a 78-51 win againt Maryville (Tenn.) in the second round. They then topped #21 Washington-St. Louis, 59-41, in the sectional semifinals before the win over Christoper Newport.
Alex Gasaway paces the Tigers with 13.6 points per game, while Savannah Trees is the other double-digit scorer with 11.6. Ellie Pearson, who has the top two single-game rebounding performances of this year' NCAA Championship (19 vs. La Roche, 18 vs. Maryville), averages a team-high 8.1 rebounds each contest. Kate Walker hands out 3.8 assists per game and ranks third in the nation with a 2.71 assist-to-turnover ratio.
The Tigers have held opponents to just 45.1 points per game which ranks sixth in Division III and is the best in school history. No opponent has scored 60 or more points against DePauw, while the Tigers' stingy defense has kept opponents below the 50-point plateau 25 times.
Statistically, the Tigers are second in the nation in scoring margin (26.8) and three-point percentage (38.9), third in rebound margin (+12.9), fewest turnovers per contest (12.3) and assist turnover ratio (1.18).
Williams, making its first semifinal appearance, earned an at-large spot in the tournament after falling to fellow semifinalist Amherst, 53-38, in the New England Small College Athletic Conference tournament championship game. The Ephs are making their seventh appearance in the postseason with an 11-6 all-time record.
Williams opened with a 79-59 win over Scranton before topping Rochester on its home court in the second round, 68-60. The Ephs defeated 25th-ranked Ithaca in overtime in the sectional semifinals, 64-60, prior to the victory over Whitman.
Claire Baecher paces the Ephs with 14.1 points, 7.8 rebounds, 1.6 steals and 2.8 blocks per game. Ellen Cook follows with 10.1 points. The Ephs lead all of Division III with 8.0 blocks per game, are second in field goal percentage defense (29.5) and ninth in scoring defense (46.6).
For more information on the DePauw women's basketball program, follow DePauw on Twitter (@DePauwAthletics / @DePauw_WBB) or like them on Facebook (www.facebook.com/DePauwAthletics).
Back