Coach Bill Lynch Talks of Building Team & Community at United Way Event
March 16, 2013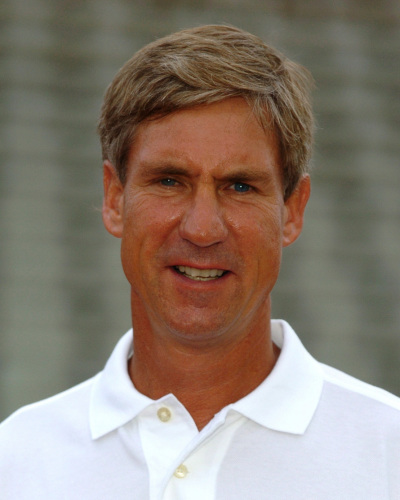 "Whether you're building a football program or tackling a sense of community, the process can be quite similar, United Way of Putnam County officials heard Wednesday night," begins a recap in the Banner-Graphic of the speech by Bill Lynch, head football coach at DePauw University, to the organization's annual dinner. Eric Bernsee writes, "Lynch shared insights into how he plans to rebuild the program he led for one season in 2004 before moving on to Indiana University to coach first the Hoosier offense and later the IU team itself.
"Lynch, the last coach to get IU to a bowl game and the first coach to do so in 14 years, said he approaches his football team with three 'non-negotiable goals.' First, he said, is earning a DePauw University degree. Second, he added, is representing the university with pride and integrity. And third is winning the conference championship, an accomplishment from which other opportunities (perhaps even a shot at a national title) can often evolve."
Lynch told the United Way gathering that football "is just a byproduct of a DePauw education." He also cited Brad Stevens, the head men's basketball coach at Butler University and 1999 graduate of DePauw, who tells his recruits that selecting a college "isn't a four-year decision, it's a 50-year decision." Lynch, whose return to DePauw was announced on December 20, added, "The memory
of games may fade, but the relationships you make and the people you meet never go away."
Lynch, a member of the Indiana Football Hall of Fame, has also been head coach at Ball State and Butler. He led the Tigers to an 8-2 record in 2004 including a 14-7 victory over Wabash in the Monon Bell Classic. He was named the Southern Collegiate Athletic Conference Co-Coach of the Year and was the first football coach in SCAC history to earn the honor in his initial season.
He and his wife are moving back into the nearby home at Heritage Lake that they bought when he took the reins of the DePauw football program in 2004. "We're thrilled to be here, and that's our last move," he told the gathering.
Bernsee writes, "Before finishing his remarks, Lynch offered the services of '70 able-bodied young men' under his supervision for community service efforts this spring, noting he'll have 100 in tow by fall. 'We have a group of student athletes that can help your organization wherever they can,' he said. 'College students are flexible and can give of their time and talents.' "
The article notes that David Bohmer, director of the Pulliam Center for Contemporary Media and Media Fellows Program at DePauw and 1969 graduate of the University, is the new president of the local United Way.
Access the piece at the newspaper's website.
Back