TV Show Updates 'Stellar' Progress
March 15, 2013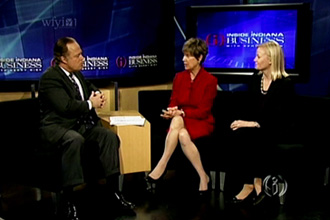 "Greencastle was one of two inaugural Stellar Communities, and the Putnam County seat set out to create Indiana's next great college town in partnership with DePauw University," reported Gerry Dick on his statewide television program, Inside Indiana Business. In a segment that marks the two year anniversary of Greencastle receiving the Stellar grant, the program offers a look at how the award has impacted the city.
Joining in the discussion were Greencastle Mayor Sue Murray and Audra Blasdel, director of community relations and auxiliary services for DePauw and 2005 graduate of the University.
Video of the segment is embedded below and is also available at the program's website.
Also available is a March 10, 2011 story on the community celebration as receipt of the Stellar Communities grant was formally announced.
Source: Inside Indiana Business
Back