Prof. Jeff McCall '76 Makes 11th Appearance on TV's O'Reilly Factor
March 15, 2013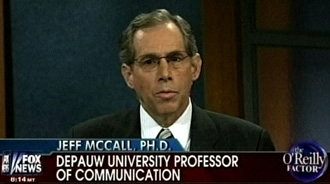 "I think the Founding Fathers would be disappointed because they wanted an independent press to be a watchdog of the powers that be," Jeff McCall, professor of communication at DePauw University, said on tonight's edition of Fox News Channel's O'Reilly Factor. Dr. McCall appeared in a segment in which host Bill O'Reilly questioned whether some reporters have tossed objectivity aside in their coverage of the White House.
The program is the highest rated show on cable television. It marks the professor's eleventh appearance on the show (the most recent was January 25, 2013).
The segment is embedded below.
Jeffrey M. McCall is a 1976 graduate of DePauw and the author of Viewer Discretion Advised: Taking Control of Mass Media Influences. He is regularly called upon by news outlets to discuss media matters.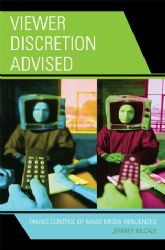 The professor was quoted in Sunday's New York Times and last week discussed a boycott of Saturday Night Live advertisers with the Christian Science Monitor.
Dr. McCall also writes regular op-ed columns which appear in newspapers across America. His latest essay explores the issue of violence depicted in television, movies and video games.
Source: Fox News Channel
Back