Multiple CEOs Can Create "Strategic Advantage," Says Steve Langerud
March 21, 2013
This week's move by Samsung to name two more individuals to the post of chief executive officer -- giving the company three CEOs -- is making news on MarketWatch, which reports, "And experts say there's good reason to be optimistic about such moves."
Steve Langerud, director of professional opportunities at DePauw University, says, "I see co-CEOs as a viable and strategic advantage to both employees and shareholders." Quentin Fottrell writes, "But (Langerud) says it's 'critical' to develop a structure for implementing the company's strategy, and to craft distinct agendas for each CEO."
The piece notes, "Research suggests shareholders tend to like joint CEOs -- at least at first. In a study of over 100 public companies with co-CEOs published last year, the stock rose a cumulative average of 6% in the day before and after the announcement of a dual leadership. But the survey, by Stephen P. Ferris, a professor at the University of Missouri business school, found that only 45% of these joint company CEOs had complimentary educations and job responsibilities."
Read more at MarketWatch.com.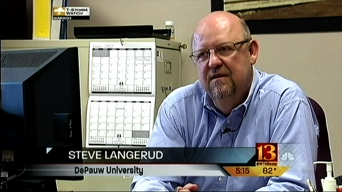 Steve Langerud is regularly quoted in stories on the job market and career development, including a newspaper report and a citation in the February issue of More magazine. He has helped more than 15,000 people with workplace issues and is available to assist DePauw students and alumni with career planning.
Learn more about the help that is available at DePauw's Center For Student Engagement.
A television news story featuring the "career coach" is embedded below.
Source: MarketWatch
Back