"Perfect Way to End My Career," Senior Says of National Basketball Championship
March 25, 2013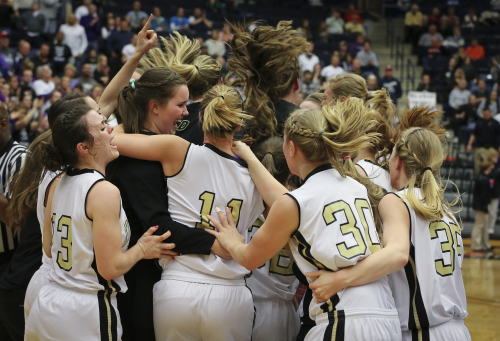 "I couldn't have made a better decision," DePauw University senior Kate Walker tells the Indianapolis Star of her college choice. A member of the women's basketball team, Walker was interviewed by the newspaper by telephone as she and her teammates returned from winning the NCAA Division III basketball tournament. "I was just joking with Coach (Kris) Huffman, talking about my first trip to DePauw five years ago on (that year's) senior night."
Michael Pointer writes, "Five years later, Walker was a key member of the DePauw women's basketball team that went 34-0 and won the NCAA Division III title by beating Wisconsin-Whitewater 69-51 in the championship game (March 16) in Holland, Mich. Walker led the Tigers with 17 points."
"It's the perfect way to end my career right here," Walker tells the Star. "I wouldn't want it any other way."
The text notes, "Walker had a stellar career at Perry Meridian before graduating
in 2009 and admits she wasn't particularly interested in DePauw at first. She wanted to play at the NCAA Division I level. But she credits her father for pushing her to give the school a look. 'Coach always said she was recruiting my father more than me,' Walker said. 'I am so glad I came on that trip. I am so glad coach Huffman kept recruiting me and stayed on me. Not many people can say they worked this hard and got rewarded for it. To have this is a great feeling.'
Access the article at IndyStar.com.
Learn more about the title game in this report (video is embedded below).
Back