Public Celebration for DePauw's National Champions Thursday
April 1, 2013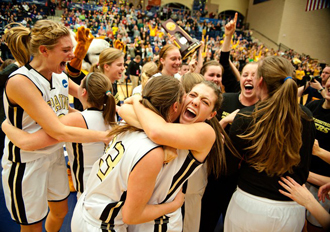 "The public is invited to come out and celebrate the unbeaten DePauw University women's basketball team's 2013 NCAA Division III national championship on Thursday, April 4 in downtown Greencastle," notes today's Banner-Graphic. "From 5:30 to 7:30 p.m., DePauw players and coaches will be on hand at Eli's Books and Starbucks at the corner of Washington and Indiana streets for a meet-and-greet session." (top photo: Erik Holladay/NCAA)
The text adds, "The first 100 people to arrive will receive a free poster of this year's championship team. Members of the historic DPU team, which set an NCAA Division III record for victories in a season with its 34-0 mark, will be available for photos and autographs. In addition, door prizes will be raffled off throughout the evening."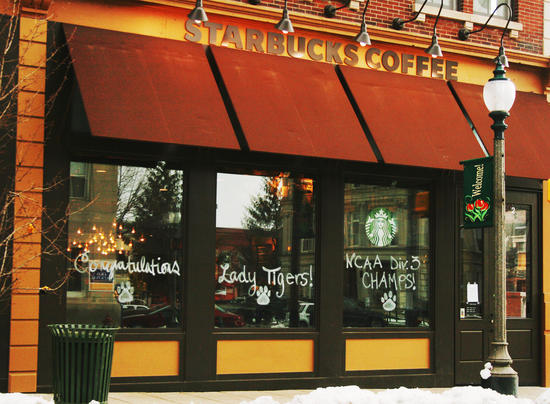 A photo accompanying the article (seen here at left) shows the front window of the businesses, which are decorated to celebrate the Tigers' success.
You'll find the piece at the newspaper's website.
DePauw won its second national title on March 16 with a 69-51 victory over Wisconsin-Whitewater in the NCAA Division III national championship game, closing out a perfect 34-0 season. DePauw became the only team in NCAA Division III women's basketball history to win 34 games in a season.
The Togers and head coach Kris Huffman were also the national champions in 2007.
Back