'Career Coach' Dispenses Advice in US News Column
April 2, 2013
"Has a colleague ever pitched your idea as his own? It's only natural to get angry," notes U.S. News & World Report. Ritika Trikha writes, "don't get too hung up on the incident. According to Steve Langerud, director of professional opportunities at DePauw University, letting people take credit for your work is one of the best ways to succeed and advance in your career. (Full disclosure: Langerud is a glass-half-full type of person.)"
The advice Langerud offers in the column includes, "Your value as a selfless team member sky rockets when you take one for the team."
Access the piece at Yahoo! Finance.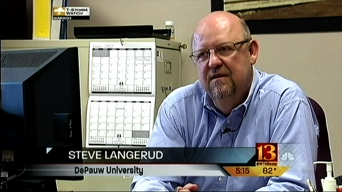 Steve Langerud is regularly quoted in stories on the job market and career development, including a recent MarketWatch report and a citation in the February issue of More magazine. He has helped more than 15,000 people with workplace issues and is available to assist DePauw students and alumni with career planning.
Learn more about the help that is available at DePauw's Center For Student Engagement.
Back