Megan May '13 Awarded NSF Graduate Research Fellowship
April 10, 2013
Megan K. May, a senior biology major at DePauw University, has been awarded a National Science Foundation (NSF) Graduate Research Fellowship.
The oldest graduate fellowship of its kind, the program recognizes and supports outstanding graduate students in NSF-supported science, technology, engineering, and mathematics disciplines who are pursuing research-based master's and doctoral degrees at accredited United States institutions. Fellows benefit from a three-year annual stipend of $30,000 along with a $12,000 cost of education allowance for tuition and fees, opportunities for international research and professional development, and the freedom to conduct their own research at any accredited U.S. institution of graduate education they choose.
More than 13,000 applications were submitted to NSF for the 2013 competition; 2,000 award offers were made.
For a summer research internship, May worked on a project looking at the microbial diversity of the DePauw Nature Park ponds. "I absolutely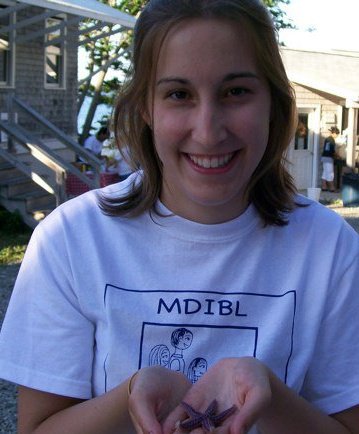 loved working with microbes and having the mixture of laboratory and field work," she recalls. My DePauw research experience has helped me figure out what I want to work with in the future." She has also interned at Mount Desert Island Biological Laboratory in Salisbury Cove, Maine, and spent a semester in Ecuador, where she engaged in an independent study project on ecological sanitation problems. She has also assisted on a research project at the University of Tennessee.
Megan May is a Rector Scholar and Science Research Fellow and is minoring in Spanish and sociology. A profile of the senior is available by clicking here.
Past NSF Fellows include numerous Nobel Prize winners, U.S. Secretary of Energy Steven Chu, Google founder Sergey Brin, and Freakonomics co-author and 2009 Ubben Lecturer Steven Levitt.
Learn more about the program here.
Back