Doors for 4/17 Jane Goodall Ubben Lecture Open at 6:30 for DePauw Students, 7 p.m. for All Others
April 12, 2013
Also: Webcast Link; More Information on Wednesday's Event; Submit a Question for Dr. Goodall; Parking Map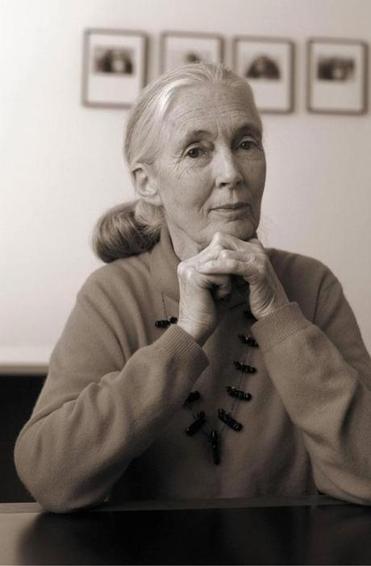 Doors for Jane Goodall's Ubben Lecture at DePauw -- which will take place on Wednesday, April 17 in Neal Fieldhouse, located within the Lilly Physical Education and Recreation Center (702 S. College Avenue) -- will open to the public at 7 p.m. A special entrance for DePauw University students with valid ID will open a half-hour earlier, at 6:30 p.m. The 3,000 seats inside the venue will be available on a first-come, first-served basis; no tickets are being distributed. As with all Ubben Lectures, admission is free. (photo: David S. Holloway)
Should Neal Fieldhouse reach capacity, spectators will be guided across the street to the Green Center for the Performing Arts (605 S. College Avenue), where a video feed will be projected in Kresge Auditorium.
Dr. Goodall's speech, "Sowing the Seeds of Hope," will also be webcast and can be seen via the Internet anywhere in the world via this link.
The entrance for students will be located on the southwest side of the Lilly Center. Only those individuals carrying a current DePauw ID will be admitted through these doors beginning at 6:30 p.m.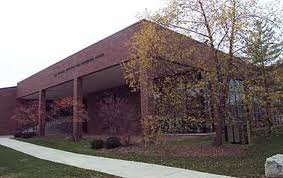 All other spectators must enter through the doors on the north side of the building. A separate entrance at that location for disabled individuals will open shortly before 7 p.m. The main doors will then open at 7.
The Lilly Center is currently being expanded, so visitors to campus should be aware that it is a construction zone and that parking has been affected. Parking for disabled individuals will be available in the lot behind the Julian Science and Mathematics Center (just north of the Lilly Center). All other spectators are asked to find parking in campus lots (disregard "permit needed" designations on this night) -- including those on Olive Street, behind the Olin Biological Sciences Building, Humbert Hall, Peeler Art Center and Hanna Street. Street parking is also permitted in designated areas. An online map shows campus lots.
All mobile phones and pagers must bet turned off during Dr. Goodall's presentation. No flash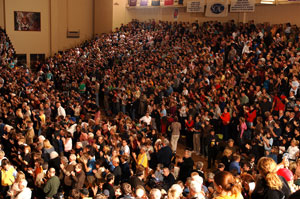 photography will be permitted.
You're invited to submit questions for the Ubben Lecturer, which will be presented to Goodall by DePauw student journalists, to ubbenquestions@yahoo.com.
The speech will be followed by a book signing with Jane Goodall, whose latest release is Seeds of Hope. Spectators are encouraged to bring one of her books to be autographed, and books will be available for sale within the Lilly Center.
"It will be an exciting and memorable day for DePauw, where we've been preparing for Dr. Goodall's visit for months," says Ken Owen '82, executive director of media relations and coordinator of the Ubben Lecture Series. "I do expect a line to form several hours before the doors open and we encourage those who are determined to see the lecture to arrive early. We have selected a large venue but it's clear that there are many people very excited to attend this event."
A synopsis of the speech is below: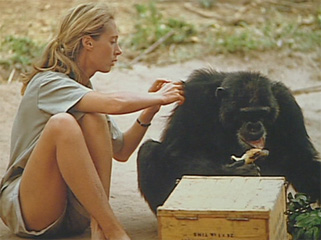 More than 50 years ago, a young Jane Goodall first set foot in what is today Tanzania's Gombe National Park. Little did she know at the time that she was about to embark on a groundbreaking chimpanzee behavioral study that would rock the scientific community and redefine our understanding of animals and, ultimately, ourselves. Likewise, she probably never imaged that she would one day leave Gombe and begin a quest to empower others to make the world a better place for people, animals, and the environment we all share. In her speech, "Sowing the Seeds of Hope", Dr. Goodall will first bring her audience into the world of the Gombe chimpanzees -- from her early observations and experiences to the latest news and stories from the field.
The original announcement of Dr. Goodall's visit may be found here.
Established in 1986 through the generous support of 1958 DePauw graduates Timothy H. and Sharon Williams Ubben, the Ubben Lecture Series was designed to "bring the world to Greencastle" and presents events which are available for students, faculty, staff, alumni and the local community to enjoy.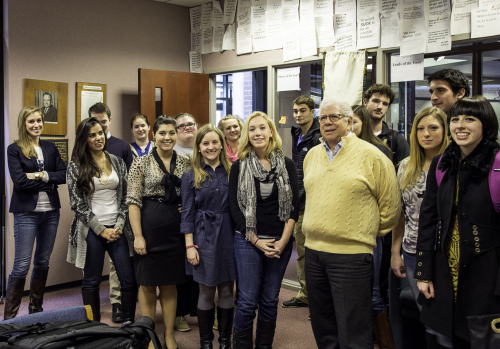 The current academic year has included visits by CNN's Candy Crowley and Watergate journalist Carl Bernstein (seen at left during a visit to the newsroom of The DePauw). Other previous Ubben Lecturers have included Bill Clinton, Tony Blair, Mikhail Gorbachev, Margaret Thatcher, Elie Wiesel, Mike Krzyzewski, Benazir Bhutto, General Colin Powell, Shimon Peres, John Major, Willy Brandt, Barbara Bush, Howard Dean and Karl Rove, Spike Lee, Naomi Wolf, Julian Bond, Ambassador L. Paul Bremer, Bill Bradley, Leymah Gbowee, David Plouffe, Mitch Albom, Peyton Manning, General Wesley Clark, William Bennett, Sister Helen Prejean, Paul Tsongas, Paul Rusesabagina, Gwen Ifill, Doris Kearns Goodwin, Bob Woodward, Paul Volcker, Todd Rundgren, Ralph Nader, Harry Belafonte, Andrew Young, Ross Perot, Ken Burns and many others.
To view a complete roster of Ubben Lecturers -- which includes links to video clips and news stories -- click here. Video montages of many events are available on YouTube.
Back