Radio Program Features Recordings by DePauw University Band
April 2, 2013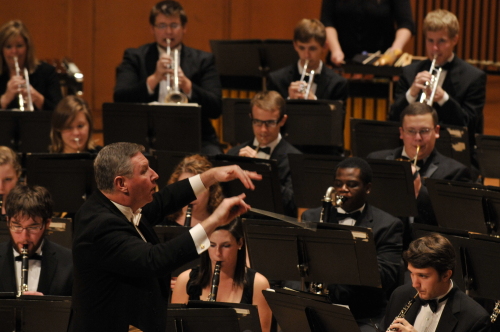 The music of the DePauw University Band has been featured on Wind & Rhythm, a weekly, one-hour radio program which is carried on some over-the-air stations as well as the Internet. Hosted by Doug Brown, the show is devoted exclusively to the music of wind bands: wind symphonies, wind ensembles, wind orchestras, concert bands, symphonic bands, and brass bands. Episodes 220 and 227 of the show featured recordings of the DePauw Band, which, under the direction of Professor Craig Paré, has released eight compact discs.
Other ensembles featured on the program alongside the DePauw student musicians include the United States Marine Band, the United States Army Field Band, Dallas Wind Symphony and North Texas Wind Symphony.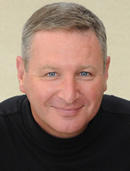 "Being recognized solely for the quality of our recorded performances is a true honor," says Dr. Paré, who met the show's host and producer at the annual Midwest International Band and Orchestra Clinic in Chicago last December. "And to be featured internationally, alongside the preeminent professional and graduate school ensembles in the United States is, well, frankly, overwhelming."
The music professor adds that Brown "was initially interested in 'The Glass Bead Game', a concerto for horn and wind ensemble by Jim Beckel, one of our School of Music faculty members, that is recorded on our third CD Airs & Dances. About a month after the Midwest conference, he sent me the programming list of repertoire for episode #220. Lo and behold, he was looking for recordings for his show Wind & Rhythm. And, wow, here now is another opportunity for the world to hear the University Band."
Both broadcasts, along with all past episodes,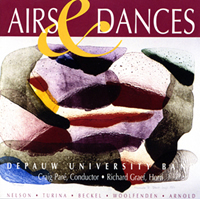 can be heard at the show's website.
The DePauw University Band recordings, produced and distributed through Mark Custom Recording Service, are available commercially through retailers such as Amazon.com and iTunes, and they can be heard through the Naxos Music Library.
Learn more about the CDs in this previous summary.
Back