DePauw Theatre Season Closes with The Herbal Bed, April 11-14
April 6, 2013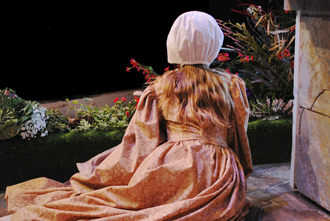 Travel back in time 400 years in DePauw Theatre's final mainstage production of the 2012-13 season, The Herbal Bed. Set in Stratford-upon-Avon during the summer of 1613, the play is based on actual events that occurred when William Shakespeare's eldest daughter, Susanna Hall, was publicly accused of having a sexual liaison with her married neighbor and family friend. Written by Peter Whelan and directed by Andrew Hayes, associate professor and chair of communication and theatre at DePauw, the play premiered in 1996.
The DePauw production opens Thursday, April 11, at 7:30 p.m. in Kerr Theatre, located within the Judson and Joyce Green Center for the Performing Arts. Performances will continue Friday and Saturday, April 12 and 13,
at 7:30 p.m., followed by a matinee performance on Sunday, April 14 at 3 p.m.
Tickets for The Herbal Bed are $3 for students and $6 for adults and are available for purchase at http://www.brownpapertickets.com/event/309654. Please note that seating is limited. The opening night audience is invited to attend a reception following the Thursday performance in the Great Hall as well as a talk-back after Friday night's show.
The Herbal Bed was written specifically for the Royal Shakespeare Company. It tells the tale of Susanna Hall, who in June 1613 was publicly accused by Jack Lane of having an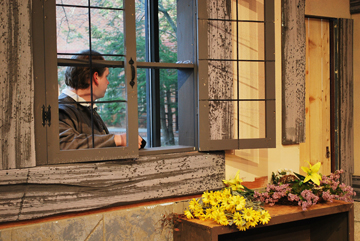 affair with local haberdasher Rafe Smith. By July, she sued Lane for slander and defamation, and the case was presented at the church's court of Worcester.
In The Herbal Bed, "Every character comes to life and, although he doesn't appear, Shakespeare is a powerful presence," noted London's Daily Telegraph.
Other plays by author Whelan, an Honorary Associate Artist of the Royal Shakespeare Company, include Worlds Apart (1987) and The School Of The Night (1993).
Back