LA Times Story on NBC Late Night Change Quotes Prof. Jeff McCall '76
April 6, 2013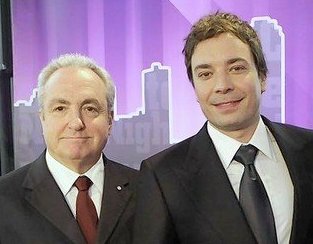 "Jimmy Fallon may have been crowned the new king of late-night TV this week, but he owes a lot to the man behind the throne: Lorne Michaels," begins a Los Angeles Times article. Scott Collins writes, "Fans of Saturday Night Live will recognize Michaels, the show's creator, as the grumpy paterfamilias lurking in the wings on any given night ... (His) office in Rockefeller Center is now the most critical perch at NBC, where Michaels towers as the last man standing at a last-place network. Michaels discovered (Jimmy) Fallon, produces his late-night show and, in a coup that dented L.A.'s showbiz status, engineered a move for the No. 1-rated Tonight Show back to Manhattan after a 40-year exodus in Burbank." (2008 photo shows, l-r, Lorne Michaels and Jimmy Fallon)
Later in the piece, Collins notes, "Some critics argue that Michaels' approach might be too hip for the room -- a rush to the edgy when NBC should be trying to go broad. 'NBC should be careful of letting itself become too identified by the Lorne Michaels' comedy brand,' said Jeffrey McCall, a media professor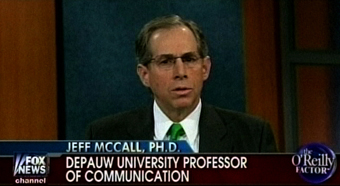 at DePauw University. 'A network is much more than that, and any network that will allow itself to be labeled by the SNL/Fallon brand could be headed toward niche status in the eyes of the broader viewing public.' "
You'll find the complete story -- headlined "Late-night moves give Lorne Michaels even more power at NBC" -- at the Times' website (a subscription may be required).
Earlier in the week, Jeff McCall -- professor of communication at DePauw and 1976 graduate of the University -- discussed the Leno-Fallon switch with the Christian Science Monitor.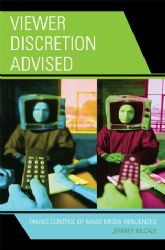 A member of the DePauw faculty since 1985, Dr. McCall is the author of Viewer Discretion Advised: Taking Control of Mass Media Influences. He has been cited in articles on the media in more than 100 publications, including the March 21 Los Angeles Times and the March 10 New York Times. The professor also appeared March 15 on Fox News Channel's O'Reilly Factor. He contributes regular op-ed columns to newspapers. The latest is summarized in this March 31 story.
Source: Los Angeles Times
Back