TV's Bret Baier '92 "At the Top of His Game"
April 2, 2013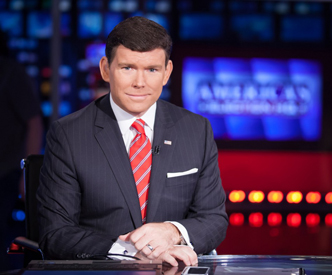 "Bret Baier is at the top of his game: His Fox News show, Special Report with Bret Baier, has been the No. 1 news program on TV for 50 consecutive months (a feat only achieved by a small handful of news anchors) and he's gotten the chance to sit down with some major political players -- including President Obama," begins a feature on the 1992 DePauw University published in Splash, a supplement to the Chicago Sun-Times.
Baier tells the publication, "It's been quite a ride," adding, "Covering Washington is like drinking from a fire hose: It's nonstop news."
The piece notes Baier's philanthropy, pointing out that he'll be "coming back to Chicago in June to emcee the Saving Tiny Hearts gala, which raises
money for congenital heart defect research."
Read more here. (at left: Baier with Bruce Stinebrickner, professor of political science at DePauw)
Bret Baier was an English (composition) and political science double major at DePauw, where he captained the golf team. He will return to campus to speak as part of the 175th Anniversary Distinguished Alumni Lecture Series.
A March 2008 Crain Lecture by Baier is covered here.
Back