Indianapolis Star & News Publisher Eugene S. Pulliam '35 Dies at Age 84
January 21, 1999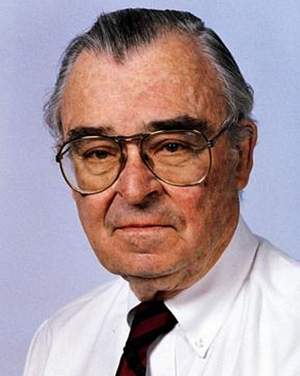 January 21, 1999, Greencastle, Ind. - Eugene S. Pulliam, the publisher of the Indianapolis Star and Indianapolis News and 1935 graduate of DePauw University, died January 20. Pulliam, who served as a member of DePauw's Board of Trustees for two decades, was 84 years old.
The son of legendary publisher Eugene C. Pulliam '10, Eugene S. Pulliam served as publisher of the two Indianapolis newspapers from 1975 until his death. Under his leadership, the Star won two Pulitzer Prizes -- in 1975 for a series on police corruption and in 1991 for an investigation of Indiana's medical malpractice system.
Eugene Smith Pulliam was born Sept. 7, 1914, in Atchison, Kansas, when his father, Eugene C. Pulliam, was just beginning his long career in the newspaper industry. When the family moved to Indiana, Gene, as he would be known, began his own newspaper career while in grade school, delivering the Lebanon Reporter and the Indianapolis News. He later worked as an apprentice in the Reporter's print shop.
At DePauw, Pulliam was active on the student newspaper, The DePauw, and served as

president of DePauw's chapter of Sigma Delta Chi, the Society of Professional Journalists.
After graduation he took a job with United Press. He worked for the wire service in Chicago, Detroit and Buffalo, N.Y., and then returned to Indianapolis to become news director of WIRE, a radio station then owned by his father.
During World War II, Gene Pulliam served four years in the Navy and then with the Naval Reserve, retiring in 1948 with the rank of lieutenant commander. After returning from World War II, Pulliam served in several positions with the Star including aviation editor, assistant city editor and city editor. In 1948, he became managing editor of the News. In 1962 he was named assistant publisher of the Star and the News and became publisher in 1975 after his father's death.
The Hoosier State Press Association honored Pulliam's longtime defense of the First Amendment by naming him the 1995 recipient of the First Freedom Award.
Back