Wittwer Named NCAC Player of the Week
February 25, 2013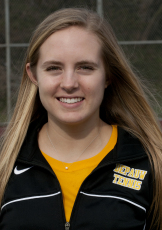 Greencastle, Ind. - DePauw Sophomore Julie Wittwer (Grosse Pointe, Mich/South) has been named the North Coast Athletic Conference Women's Tennis Player of the Week for her performances against Olivet Nazarene, Washington-St. Louis, and Wisconsin-Whitewater.
Wittwer helped lead the Tigers to a perfect 3-0 week and posted a 3-0 record in both fifth singles and third doubles.
She helped DePauw to a convincing 8-1 victory over Olivet Nazarene on Monday and a pair of 5-4 wins over Washington-St. Louis and Wisconsin-Whitewater on Saturday.
DePauw returns to action on Friday, March 1 in the Intercollegiate Tennis Association Division III National Indoor Championship at the DePauw Indoor Tennis and Track Center.
For more information on the DePauw tennis program, follow DePauw on Twitter (@DePauwAthletics / @DePauwTennis) or like them on Facebook (www.facebook.com/DePauwAthletics).
Back