Glass Ceiling Still Exists, Steve Langerud Tells Columnist
April 9, 2013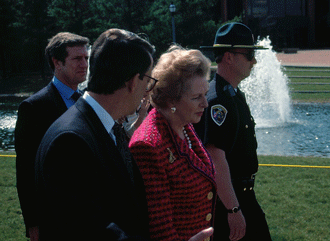 "Is it easier for a woman to become a political leader than a business one?," asks MarketWatch's Quentin Fottrell. "More than three decades after Margaret Thatcher became prime minister of Britain, the answer still appears to be yes." (photo: Margaret Thatcher walking on the DePauw campus before her Ubben Lecture; April 8, 1992)
The text notes, "Women currently hold 97, or 18%, of the 535 seats in Congress: 20 of the 100 seats in the Senate (an all-time high), and 77 of the 435 seats in the House of Representatives, according to the Center for American Women and Politics at Rutgers University. By contrast, just 4% of women hold CEO positions in Fortune 1,000 companies."
The piece concludes, "And it should be noted that for all of women's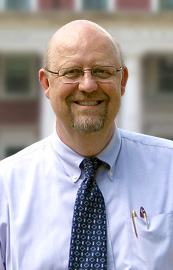 advances in politics, no woman even been nominated for a presidential run by one of the two major parties. Even at a state level, says Steve Langerud, a workplace consultant and director of professional opportunities at DePauw University, 'we're not going to see that equity between men and women for a long time.' "
Access the article -- headlined "Why Margaret Thatchers outnumber Marissa Mayers" -- here.
Steve Langerud is regularly quoted in stories on the job market and career development, including a recent U.S. News & World Report piece and a citation in the February issue of More magazine. He has helped more than 15,000 people with workplace issues and is available to assist DePauw students and alumni with career planning.
Learn more about the help that is available at DePauw's Center For Student Engagement.
Source: MarketWatch
Back