Marshall Nets NCAC Weekly Award
April 9, 2013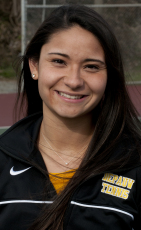 Greencastle, Ind. – DePauw sophomore Claire Marshall was named North Coast Athletic Conference player of the week after posting a 3-0 record at the number two singles spot after three, straight-set win at the Midwest Invitational in Madison, Wis., this past weekend.
In the first match of the Invitational against Carleton, Marshall dispatched the number two player, 6-4, 6-4. In the later match in the opening day of competition, she defeated Washington University's number two, 6-4, 6-3.
After DePauw was defeated by Washington University in the semifinal round, they matched up with Case Western in the third-place match. After a 6-2 opening set victory, Marshall breadsticked the Spartans number two player, winning the second set easily, 6-1.
In addition to her perfect singles record last weekend, Marshall also picked up two victories in the doubles format, teaming up with Meg Crowley.
The Tigers return to the court this Saturday, April 13, against Wittenberg in an NCAC match in Springfield, Ohio. The match is slated to begin at 2 p.m. (ET).
For more information on the DePauw tennis program, follow DePauw on Twitter (@DePauwAthletics / @DePauwTennis) or like them on Facebook (www.facebook.com/DePauwAthletics).
Back