Fulbright Award Will Send Senior Dave Tykvart to Czech Republic
April 18, 2013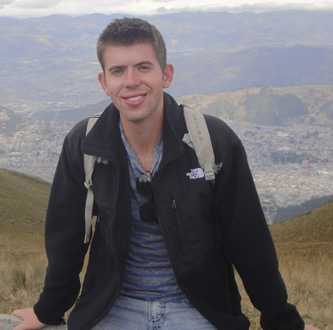 DePauw University senior David Tykvart will spend the 2013-14 academic year teaching English in the Czech Republic as a result of winning an English Teaching Assistant award from the Fulbright U.S. Student Program competition.
Tykvart becomes the third DePauw senior to be announced as a 2013 Fulbright winner. Kendall C. Quisenberry will use an English Teaching Assistantship to teach in Malaysia. Katlin "Katie" V. Kraska has been awarded a Fulbright U.S. Student scholarship and will conduct research and study in Indonesia during the upcoming academic year.
"A first generation Czech American, I was the first in my family to attend school in the United States," Tykvart wrote in his application for the Fulbright award. "As a student at DePauw University, I have led two service immersion trips to South America, interned with the State Department in Lima, Peru, and explored the West African education system in Ghana. While traveling and learning about new cultures has helped me develop a globalized attitude, my dual degrees in political science and Spanish and minor in Russian Studies have prepared me to enter the world with an ability to think critically while reinforcing my passion for foreign cultures, languages and history."
He added, "As a teacher and a leader, I've learned to embrace my own style. Leading service trips, I've learned that you earn your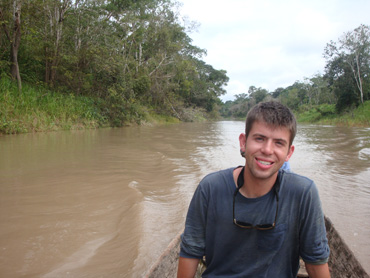 students' respect the most when you demonstrate that you aren't afraid to be a kid; knowing how to mix humor with determination is a powerful tool. I know that teaching in the Czech Republic will bring me closer to understanding my past as well as my future."
The senior told the Fulbright committee, "Having traveled to three different continents, I'm certain that my future involves working for the U.S. Department of State as a Foreign Service officer. Specifically, I hope to become a public affairs officer so that I could use my career to promote international education and cultural exchange. My interest in becoming a diplomat has pushed me to learn the Cyrillic alphabet, minor in Russian, and intern at the U.S. Embassy in Lima. A Fulbright is the perfect match for someone who hopes to be the Ambassador to the Czech Republic; an ETA lets me learn as a student ambassador."
Tykvart, who is fluent in Czech, stated, "I want the opportunity to spend ten months teaching in the Czech Republic so I can strengthen my conversation skills, learn how to read and write, and help foster mutual understanding. I also hope to discover my heritage while getting to know the modern Czech Republic: not the one my parents left during the Cold War."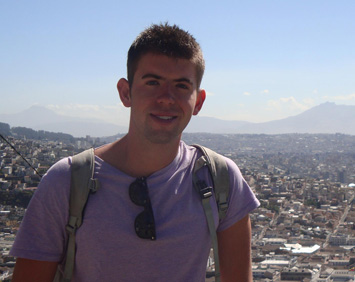 Besides teaching English, Dave Tykvart hopes to organize an after-school movie series featuring U.S. and Czech films from the 20th century, "to compare and contrast the culture and politics of the time period depicted in the film." He stated, "Through my experience mentoring first year students, tutoring for Russian language and American government courses, leading international immersion trips and teaching Spanish to third graders every week, I know I can make a difference."
Sponsored by the U.S. Department of State, the Fulbright U.S. Student Program is the largest American international exchange program offering opportunities for students and young professionals to undertake international graduate study, advanced research, university teaching, and teaching in elementary and secondary schools worldwide. Fulbright student grants aim to increase mutual understanding among nations through educational and cultural exchange while serving as a catalyst for long-term leadership development.
The Fulbright U.S. Student Program currently awards approximately 1,800 grants annually in all fields of study, and operates in approximately

155 countries worldwide. Fulbright full grants generally provide funding for round-trip travel, maintenance for one academic year, health and accident insurance and full or partial tuition. Since its inception in 1946, the Fulbright Program has provided about 310,000 participants, chosen for their leadership potential, with the opportunity to observe each others' political, economic and cultural institutions, exchange ideas, and embark on joint ventures of importance to the general welfare of the world's inhabitants.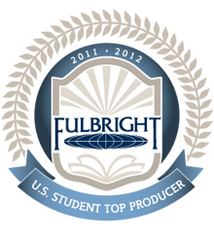 DePauw University is listed among the "Top Producers of Fulbright Awards for U.S. Students, 2012-13" in the Chronicle of Higher Education. DePauw was also cited as one of the USA's top producers of Fulbright Fellows in the publication's 2011, 2009, 2008, 2007 and 2006 listings.
See the names of DePauw's Fulbright recipients here or visit the University's Fulbright page.
DePauw students and alumni who are interested in applying for Fulbright Awards may contact David N. Gellman, associate professor of history, or Marion "Marnie" McInnes, professor of English and women's studies and director of nationally competitive scholarships.
Back